Annual Health Fair Huge Success
by Kim Johnson • October 24, 2007

Share: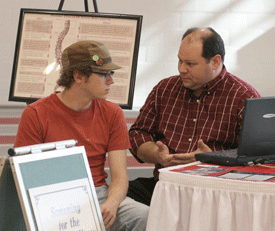 The Annual Wabash Community Health Fair drew students, faculty, and staff from all over campus. Participants took advantage of the opportunity to receive free screenings including cholesterol, glucose, percent body fat, and blood pressure. Flu shots were also available for a fee.
Cathy Metz, Human Resource Director and Wabash College Wellness Committee member felt the Health Fair was a positive event for the campus. "The purpose of the fair was to encourage people to think about their health," she said, "even if it's only for the day, an hour, or the time they are at the fair. It is also a great opportunity to see what the Crawfordsville community has to offer."
More than 25 area businesses were on hand to give advice on topics such as nutrition, exercise, preventing back pain, substance abuse prevention, and financial planning. In addition, a massage therapist was on hand to give chair massages to lucky passers-by. Several health service agencies such as Red Cross, AHEAD, and Head Start were also present promoting opportunities for the Wabash Community to get involved.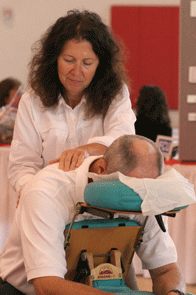 Brian Anderson, Wellness Director and Wrestling Coach at Wabash College felt the turnout for this year's health fair was better than in years past. "We are very pleased with the turnout," he said. "Not only are there more people here but those who are here are a lot more engaged with the exhibitors."
The participants walked away from the health fair with a little more knowledge about their health as well as lots of free stuff. Additional prizes were given at the conclusion of the Health Fair and those willing to run or walk a 5K during the health fair hours took home a free t-shirt.
The student living unit with the highest percentage of students in attendance at the fair won a $300 give certificate towards a house hog roast by Hog Wild. In addition, one student won an iPod Nano and a faculty/staff member won a $100 gift certificate to the Beef House Restaurant.