Little Giants Claim Sole Possession of NCAC Lead
by Howard W. Hewitt • October 20, 2007

Share:
Week by week sophomore quarterback Matt Hudson is carving a niche for himself along all the great Little Giant quarterbacks who preceded him at Wabash College. Hudson had a hand in five touchdowns Saturday leading Wabash to a 45-14 win over Oberlin.
The Little Giants (7-0, 5-0) claimed sole possession of first place in the North Coast Athletic Conference with the win. The loss was Oberlin's (3-4, 3-1) first in league competition. See photo albums here: No. 1, No. 2, No. 3.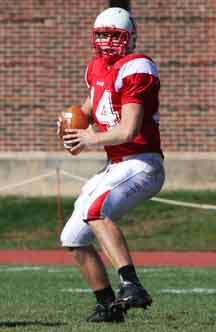 Hudson had a monster day filled with career highs. He threw for four touchdowns hitting on 21-of-30 passes for 417 yards. He also rushed four times for 22 yards; one of those was a 10-yard score.
"I'm definitely getting in a rhythm, definitely since the Earlham game," Hudson said. "I feel like our running game has really started to step up – the first few weeks we struggled with that a little bit. The last four weeks we were able to run the ball and that really makes my job a lot easier. That and I have the best receiving corps in the country and a great offensive line, so they all make it pretty easy on me."
The sophomore has a long way to go to rank alongside Dustin Huff, Russ Harbaugh and other Wabash record holders, but he has hit on five touchdown passes, ran for another, and thrown for more than 700 yards the past two weeks.
"He's improving," Creighton said. "I thought the Allegheny game, just for our whole offense, was a break-through game. And then last week that showed true. "We had confidence in ourselves after Allegheny then we came out last week and played pretty good football against a pretty good team. And then offensively, it just continued today. We're in pretty good rhythm right now and we have some confidence."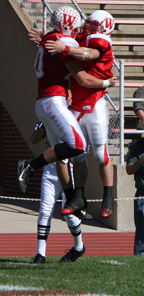 Wabash ran up a 26-7 halftime margin by scoring on four of its first five possessions. Hudson tossed an 18-yarder to Brock Graham, a 21-yard pass to Scott Liska then ran one in from 10 yards out to get Wabash rolling. Oberlin's Scott Kjellberg got the Yeoman on the board with a seven yard run.
Then with just over two minutes to play, the Little Giants pulled off one of their luckiest, if not most entertaining, plays of the season. From their own 19-yard line, Hudson looked for Mike Russell about 15 yards downfield. He delivered a strike as the Yeoman defenders collapsed on Russell. But the ball went off Russell's hands into the air and fell to Gabe Guerrero about five yards away. Guerrero sprinted to the end zone for an 81-yard score.
As with most games the Wabash receivers were busy. Seven different receivers hauled in passes. The long strike missing for several games came back last week against Wittenberg and was a big weapon Saturday against Oberlin.
"I definitely feel comfortable with it because I don't feel with Mike Russell, Bart Banach, and Brock Graham and those guys anything bad is going to happen," Hudson said of the deep pass. "I feel like if I throw it downfield its either going to be an incompletion or they're going to catch it for a touchdown. They're not going to let anybody pick the ball off. I've got guys who can jump out of the gym and they make it pretty easy."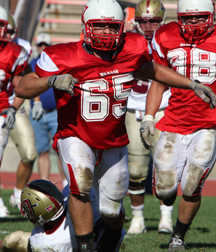 Senior defensive lineman Jared Lange had a big impact on the game. He had 7 tackles and a sack. But 4.5 of those tackles were for a loss of 15 yards. That effort gave him a tie for second place in the Wabash record book for tackles for loss. Adi Pynenberg had 4.5 against Washington two years ago. Blair Hammer equaled that mark in 2002 as did Josh Stanton in 2001.
Pynenberg's 13 tackles led all Wabash defenders. Andy Deig enjoyed a good game with 11 stops. Rich Lehman had eight, Chad Peterman and Darryl Kennon added seven apiece.
Evan Sobecki and C.P. Porter combined for 95 yards rushing as Wabash picked up 119 on the day. Mike Russell led all receivers with six catches for 106 yards and a beautiful fourth quarter over-the-shoulder reception for a 26-yard score.
The other notable stats in the game were 23 accepted penalties, 13 against Oberlin and 10 against the Little Giants. Several more were called that were not declined because of the play.
Wabash substituted liberally in the fourth quarter.
The Little Giants take to the road Saturday for a 1 p.m. kickoff at Wooster.
In photos: Top left, Hudson back to throw. Center right, Scott Liska celebrates a 21-yard catch with Evan Sobecki. Lower left, Jared "Bubba" Lange after a hit behind the line.