Pulitzer-Nominated Author's New Book Autobiographical
by Howard W. Hewitt • October 18, 2007

Share: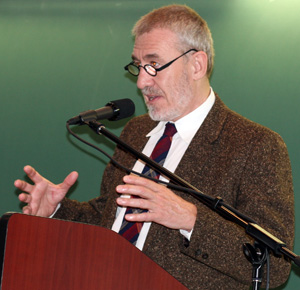 Tom Spanbauer calls the dramatic conflict in his novels violence. It's a description that takes some explanation after hearing the careful intonation of the soft-spoken Spanbauer's reading from his latest novel.
The Pulitzer-prize nominated author read Thursday night from Now is the Hour. He is perhaps best known for his book, Man Who Fell in Love with the Moon. He visited one class during his stay and opened his lecture with comments about the beauty of Wabash's campus. Spanbauer's visit was sponsored by 'shOUT, Wabash's student organization for gay, bi-sexual, questioning, and supportive students.
He read from his newest book for about 35 minutes for the small group in Baxter Hall. He selected a passage about his central character, "Rigsby John," working his summer with two Mexican youths putting up hay. His narrative and deeply descriptive style captivated the audience in each of the twists and turns of the summer and of the main character's coming of age emotions.
"I can take this event of being in a hayfield and it has no reality, no arc, tension or conflict," he said afterwards, talking about the violence he sees in his writing. "Or I can take all that stuff that happened over days or weeks and put it together in a more dramatic – or violent – fashion."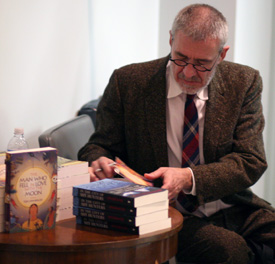 He said his latest work is closer to his own life. He grew up in Idaho and was that boy putting up hay for a distant father and working with the cheap labor of the Mexican boys.
"It's fictionalized me," he said. "This book is probably the most autobiographical. I went back in this book to investigate my relationship with my mother and father and the Catholic Church – not as a son but as a writer.
"It's not Mom who did 'that thing' to me, now she's a very complex character. The writer taught the son a lot."
Much of his writing is rooted in personal experience. In the City of Shy Hunters reflects his own life during the 80s in New York City. He was a janitor cleaning streets. People were dying of AIDS and he was HIV positive.
His best-known work is the fictionalized story of a friend who lives in something of a ghost town in Idaho. Spanbauer still visits that friend who spawned Man Who Fell in Love with the Moon regularly.
"Fiction is the invention," he said. "You can go there and investigate. You can get to the truer nature of things because you get to its violence. It's the narrator telling you this is how my heart was broken. In that telling, I can comment on issues of race, gender, or political issues."