Beer & Circus: How Big-Time College Sports Is Crippling Undergraduate Education
by Karen Handley • October 16, 2007

Share: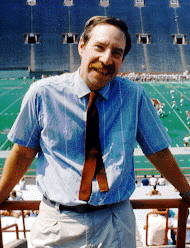 Wabash College will host Murray Sperber who will give a talk on "Collegiate Sports, Booze, and Higher Education in the Era of Beer and Circus" at 8 p.m. Thursday, November 1, in Room 101 (Lovell Lecture Room) in Baxter Hall.

Sperber will offer thoughts on intercollegiate athletics in light of his book, "Beer and Circus: How Big-Time Sports is Crippling Undergraduate Education." Sperber best summarized his book when he told an interviewer in 2000 from Publishers Weekly, "What has happened for many schools is that they can't give undergraduate students much of an education. So we give them this wonderful lifestyle experience. It's essentially beer and circus. It's a party a scene revolving around intercollegiate athletics."

Sperber is Professor Emeritus at Indiana University in English and American Studies and is a nationally recognized expert on athletics in higher education. Before retiring in 2004 to live and write in California's San Francisco Bay area, Sperber had taught in Bloomington since 1971.

Previously, Sperber has chaired the Drake Group, a national organization advocating the reform of intercollegiate athletics, and has appeared on national TV programs such as 60 Minutes, Nightline, Good Morning America, The Lehrer Newshour, and Outside the Lines. He has also been heard on National Public Radio. He received his B.A. from Purdue University and both his M.A. and Ph.D. from the University of California, Berkeley.

His talk, sponsored by the College Lecture Committee and the Hadley Fund, is free and open to the public.