Re-writing The Record Book
by Brent Harris • October 14, 2007

Share:
Adi Pynenberg not only assaulted the Wittenberg offense throughout Wabash's 24-17 win Saturday, he and teammates Mike Russell and Chad Finley spent plenty of time putting their marks in the Wabash record book.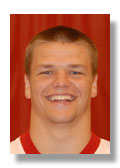 The senior linebacker's 17 tackles vaulted him past Nate Boulais ' 03 and into second place in career tackles in Little Giant history. Recording his 370th career stop in the win, Pynenberg now stands second to only Jim "Killer" Kilbane '84 on the all-time tackles list. Kilbane owns the record with 400 total tackles, and was in attendance at Saturday's game. He spoke to Pynenberg after the Wabash victory and prior to a celebration of Wabash football that honored the 1977 and 2002 teams in addition to Kilbane's 1982 squad.
"Stay healthy," Kilbane advised the senior co-captain. "It's a pleasure to watch you play. You're honoring the position that many great Wabash players have played over the years. And it's a joy to watch you as break the record. I set the mark by playing with great teammates, and I can tell you play with great teammates, as well. Enjoy your success as a team."
Two of Pynenberg's tackles went for losses, passing BJ Hammer '01 and his career record of 58 TFLs. Pynenberg shared a tackle for loss with teammate Andy Deig late in the game Saturday, giving Pynenberg 58-1/2 through 38 games of his career.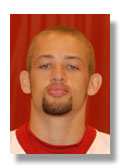 Russell and Finley also worked their way up the all-time charts. Russell (right) leaped past five former players, taking over seventh on the career receiving yards list with 2,002 yards. The senior wide out caught nine passes for 110 yards against Wittenberg Saturday. Those nine receptions also moved him to ninth on the career receptions list, passing Brandon Clifton '05, Eric Borgert '97, and Pete Logan 98. Frank Serge '99 and Eric Summer '06 are next on the list, each tied for seventh with 133 receptions. Jay Dee Flynn '00 is ahead of Russell on the career reception yardage list at 2,061 yards.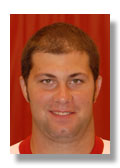 Finley (left) tied Olmy Olmstead '04 for third on the all-time extra point kicks list. Finley his three PATs against the Tigers, hitting his 103rd career extra point kick overall. Alex Costa '96 is second with 114. Joe Bevelhimer '86 heads the list with 117.
The only record the Little Giants were concerned with Saturday, however, was the 6-0 overall mark and 4-0 North Coast Athletic Conference record after picking up the win over Wittenberg.