Family Day Concert Entertaining to Everyone
by Karen Handley • October 11, 2007

Share: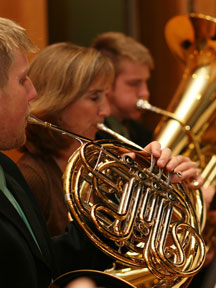 As part of Family Day festivities, the Music Department will present a concert featuring, Wamidan, the World Music Ensemble, Wabash Glee Club, Jazz Band, and Brass and Woodwind Ensembles. The concert will take place at 8 p.m., Saturday, October 20, in Salter Hall in the Fine Arts Center.

The Glee Club, under the direction of Richard Bowen, will open its portion of the Family Day Concert with a rousing presentation of the College's school song, "Old Wabash." Additional selections include the spiritual, "I Couldn't Hear Nobody Pray," a traditional whalers' song, "The Greenland Whale Fishery," and "Lift Me Up," an energetic number in gospel-quartet style. The Glee Club will conclude with a recent and exciting musical discovery from the Wabash College archives.

Wamidan, the World Music ensemble, under the direction of James Makubya, will present two African pieces. The ensemble will open with an instrumental piece combining xylophones, bowl lyres, tube fiddles, and tuned drums. The piece "Tuli Ffenna" (meaning United We Stand) is from the culture of the Baganda of Uganda. Wamidan will end its presentation with a very energetic and entertaining dance, "Amaggunju," which belongs to the culture of the Baganda.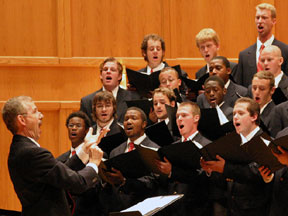 Following the performance by Wamidan, the Brass Ensemble, under the direction of Peter Hulen, will perform a powerful arrangement of "Introduction et marche royale du Lion" from "Le Carnaval des Animaux" by Camille Saint-SaŒns. The Woodwind Ensemble will perform the first movement of "Suite for Woodwind Quintet" by Robert Washburn. The Brass Ensemble will finish with "Hallelujah, Amen" from the oratorio "Judas Maccab us" by George Frideric Handel.

The Jazz Band, under the direction of Steve Robinett, will offer two classic jazz standards, "The Nearness Of You," by Hoosier composer Hoagy Carmichael and "The Autumn Leaves" by Joseph Kosma.

The Family Day Concert is free and open to the public.