Students Relished in New York Immersion Experience
• October 11, 2007

Share:
Scott Crawford and his Career Services Office is leading a mini-immersion trip to New York City over Fall Break. Wabash students are meeting with Wabash alumni to learn about careers and the city.
Several of the students will be writing about the visit. Bachelor reporter Patrick McAlister is helping coordinate the students' effort.
Check back through the weekend for updates and photos!
Visiting CBS, Seeing Celebs, and Knowing I Must Work Harder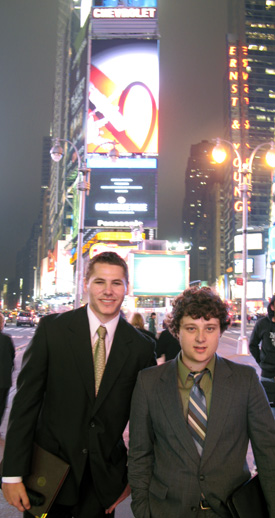 Today was another whirlwind day, and, even though this was our third excursion into Manhattan, we still hadn't figured out the subway system. Most New Yorkers who commute from other states or other boroughs to Manhattan know this system like the back of their hand; as outsiders, we were forced to follow small pocket maps. In fact, our most effective and coveted tool for travel was Senior Brian Crum's iPhone with its map feature. It provides me yet another reason I need to buy one.
But I digress.
Our first stop today was to meet CBS sales executive Rick Calacci '91. We were allowed behind the scenes of one of their major stages. We wandered around the set of the CBS Evening News with Katie Couric and BET show 106 and Park. The elevator that was to take us to these sets opened up and out emerged R&B giant Brian McKnight. The page giving us the tour said this type of celebrity run-in is pretty germane at the CBS center.
After the tour, Calacci took us to lunch and gave us some idea of where he came from. Calacci thought any experience Wabash men have in a big city like New York is important regardless of what they intend on doing in the future.
"I think one of the limitations of any liberal arts school is that they are always confined to parts of the country or areas that are either rural or small town environment," Calacci said. "To bring kids from that rural environment into a big city is a really eye opening experience and one that everyone should participate in for a day, week, semester, grad school or for a business career."
After CBS, the group tooled over to Lexington Street to the Bloomberg building. For me, this was probably one of the best parts of the experience. Bloomberg was for me the epitome of an intense, progressive organization operating at a level that transcends most business. Their building design was out of a movie, the technology used by the employees was state of the art and the people were interactive and constantly moving. It reminded me of everything I have seen and read about Google's corporate structure. I sincerely hope more businesses take pages out of Bloomberg's book.
Our final stop was as atypical of everything else we had seen thus far in our trip. Every other business, from Goldman Sachs to Bloomberg, were established names of reputable and profitable organization. VAULT Inc. was not like those other places. Established in 1997 at the advent of the dotcom boom, its total revenue last year was $52 million housing roughly 100 employees – much smaller than the $1 trillion in assets of Goldman Sachs.
VAULT Inc. is responsible for creating guidebooks with the "inside scoop" on many major corporations including the abovementioned. Analysts look at the individual corporate culture of each company to give the job searcher an idea of what it would actually be like to work at the searched for company. VAULT has expanded to include many graduate schools and international opportunities for graduating students. I was thrilled to get an inside look at what happens at a smaller company looking to grow.
I was thrilled with the opportunity to meet with so many fascinating alums in New York City. Each has a unique story to tell, some with more vicarious career paths than others. Nonetheless each utilizes their Wabash education to its fullest extent. I fly away from New York with a greater appreciation for all the hard work I have to put into my education.
In photo: Steve Zajac '10 and Patrick McAlister '10 at Times Square.
- Patrick McAlister '10
Trip Helps Senior Learn He's on the Right Path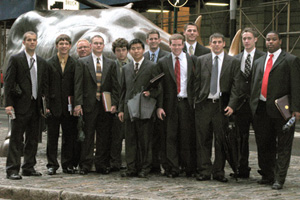 There is no doubt that New York City is art the center of the country, and its job market is just as competitive and unpredictable as many other scenes that we can find in the city. I had the chance to meet with gallery directors, high profile officers in private organizations and museum coordinators who shared the "secret" of their professional path with me. It was helpful and reassuring to know that most of them said that I was on the right path; that they, just like me, started with the kind of things I am doing right now (internships, individual research projects, etc) and they have worked their way up to their current positions.
They all looked at me resume and were very impressed with it; I understood that it is not just a matter of connections, although that is indeed a very helpful part of the entire situation, but of ambitions and tenacity.
Matthew Deleget, class of '91, said to me that after Wabash everything is a piece of cake. Wabash prepares you for Grad School; Wabash prepares you to face the big problems of the world through the necessary critical skills. A certain gallery director was very impressed with the idea of the trip in and of itself, since she said that was a total foreign idea at her school.
This trip has been very helpful to trace my career path. I was clueless when I got to NYC, now I know what I need to do. I have the connections and the skills; it is just a matter of time.
In photo: The Wabash College students in front of the famous bull in the financial district.
-Ivan Acebo-Choy '08
Students Visited Thursday with Alums in Finance
Today started at 8:30 AM with a crowded train ride into the city from our Jersey City hotel. The Subway in New York was literally everything I imagined and more – cranky, tired people literally crammed into cars for a cheap $1.50 ride into the city. It was most definitely the "immersion" part of our trip.
The three stops today were Banc of America Securities, Citigroup and Goldman Sachs. At each stop, we had alumni discussed what it took to get and maintain some of the most coveted positions on Wall Street – Financial Analysts.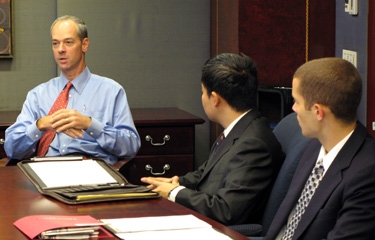 The Financial Analyst profile is pretty germane no matter where you go. The average starting salary is around 65K. However, with bonuses some make north of 120K in their first year, depending on the strength of the market and job performance. The analyst also gets a crash course on their specific market sector, be it healthcare, chemical, energy or whatever. Many analysts after two years either go on to top level business schools or work for other corporations for top dollar.
All that experience and money come at a significant cost, however. Many analysts post 110-120 work hour weeks, coming in around 9 AM and leaving after 1 AM many nights. Many times analysts are asked to work weekends and once in a while an analyst will need to pull an all nighter, in order to help get a deal done as quick as necessary. And they are all supposed to do it with a smile on their face.
We stopped first to visit Jay Allen '79 at Banc of America Securities. Our alum at Citigroup, Harsh Singh '01 had to cancel on us because of an emergency meeting in Philadelphia (such is the life of a Wall Street Banker I guess). He had colleagues present in his stead, and they gave us an excellent overview of one of the world's largest banks.
Our final stop was to meet Dr. Tom Halverson '87, Chairman of Goldman Sachs Bank. Dr. Halverson's career path into banking was the more vicarious than I heard today.
A political science major at Wabash, Halverson then went to DC and did various political jobs for two years before going to London to earn his D. Phil at a London university. He then worked for the European Reconstruction Bank, a large umbrella organization which helped get former communist countries on a more western economic trajectory. He then went to work for Goldman, living in London and Hong Kong before finally moving to New York to manage Goldman's first foray into commercial banking. His eclectic career path seems like something a Wabash man is truly destined for.
After our trip to Goldman, the guys headed over to Chelsea in the Meat Packing District for dinner at a restaurant called Macelleria. Chelsea is the chic, up and coming area of New York – which makes it no place for a person like myself, of course. Nonetheless, our dinner party gave us an excellent opportunity to sit and chat with alumni from the banking industry to the theatre.
Tim Closson '09, who has been in New York for his study abroad experience since the beginning of school this year, also met us at Dinner. Closson informed me he will be assisting Marcus Doshi '97, a light designer for theatre productions in the city. Doshi graduated with a Masters in Fine Arts from Yale Drama School, the best light design program in the country. Closson's ability to network put him in contact with an excellent alum with connections all over the New York theatrical scene.
That type of networking is exactly why most of us came on the trip. Friday we will visit CBS, Bloomberg Media and VAULT Inc.
In photos: Above, students listen to Jay Allen '79.
Group Arrives in Big Apple
After multiple delays even before we left Indianapolis, we finally got of the ground at 4 PM and landed in Newark, New Jersey at 5:40. We dropped our stuff off in our hotel in Jersey City and went immediately to Manhattan for dinner.
Our esteemed tour guide and Career Services Director Scott Crawford decided on a small hole in the wall place in East Greenwich Village to eat some cuisine never to be found in Crawfordsville – Ethiopian food.
The food was strange – it was served on a very large platter that many shared at the table. You took a piece of bread – which was a spongy doughy concoction - scooped up some of the beans, lamb, chicken or beef, roll it all together and eat it like an egg roll. Some of it was very spicy; some of it was milder. Although as a lifelong Hoosier I do prefer my meat and potatoes, I was glad I experienced Ethiopian food once in my life.
On our way back to the subway that will take us back to our hotel in Jersey, Scott had us on yet another detour. We stopped at a chocolate store – Max Brenner's Chocolate by the Bald Man. This store is literally enough to put a chocoholic into a chocolate coma. It has chocolate everything – from the traditional chocolate milkshakes to chocolate martinis.
There was even a chocolate syringe – you would literally take a syringe full of chocolate syrup and squirt it into your mouth. Not necessarily my cup of tea, but those who tried it were glad they did.
Tomorrow we will be going to talk with alums at Citigroup, Bank of America and CBS. Look for a post about our day later!
- Patrick McAlister '10