San Francisco
by Howard Hewitt • October 9, 2007

Share: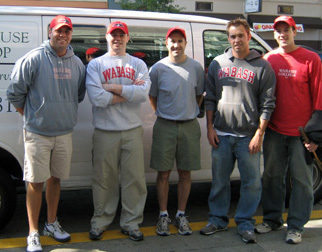 On October 6, five alumni and one non-alumni worked at the Clausen House Thrift Store in Oakland, California.
The Clausen House creates opportunities for adults with developmental disabilities to gain competency, develop relationships and join the community with increasing command over their own lives. Clausen House is a non-profit corporation serving more than 180 adults from the San Francisco Bay Area.
Specifically, we worked at the Clausen House Thrift Shop, which supports Clausen House through sales of donated goods.

Over the course of the day we completed the following:
- Cleared and cleaned store front window displays
- Moved several tons of linens from the basement to the third floor and prepared them for sale
- Loaded a van with 1 ton unsellable items and took it to the dump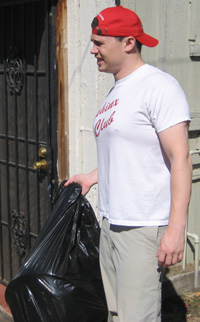 - Organized and cleaned the administrative offices and back room of the facility
- Created over 100 grab bags with various holiday themes for sale in the store
In photos: Group: Jeff Rice '00, Jonathan Walsh '98, Chad Taylor '90, Ben Hewitt '05, and John Dustman '05.
At right: Project Chairman Jonathan Walsh '98.