Grand Rapids, Mi.
by Jay Fisher '66 • October 9, 2007

Share: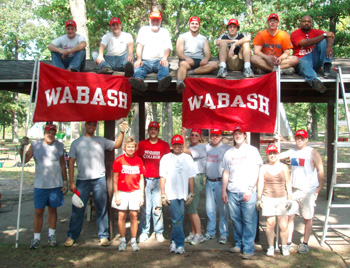 Great WABASH DAY project in Grand Rapids.
Great day, great Little Giant turnout, great benefit for the Michigan Veterans. Twenty three Wabashers celebrated WABASH DAY by rebuilding the roof on a 20 by 30 foot shelter house and staining/preserving all the benches and picnic tables for the Michigan Vets at the Michigan Veterans Facility in Grand Rapids, Michigan.
Old broken wooden shingles flew and were replaced by brand new underlayment, edging and shingles. The shelter house was stained inside from pillars to roof along with staining all the picnic tables and benches throughout the Vets Facility.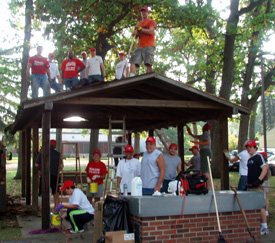 Then the enthusiastic "contractors" settled down to a well-earned picnic. The 23 Wabash participants included members from the classes of 1966 through 2005 along with parent, spouses, and friends. The "sidewalk superintendent" veterans along with the Vets Facility staff continuously complimented the industriousness and the pleasant repartee with the Wabash Day participants and asked if we could come back again every week.
The shelter house is well used by the vets as a card playing venue when weather permits. Now "weather permits" can include a little rain. Standing back and watching our Little Giant community in action, I could not have been more proud of those who are Wabash College. Some Little Giants in Grand Rapids.
A note from Jay Fisher: Here is a thank you note I received from Frannie Mulhall, a 6th grader at East grand Rapids. She came to Wabash Day along with her mother and brother (who is interested in Wabash) to help with the shelter house at the Michigan Veteran's Facility. I think this note expresses why we do it.