Wabash Men Serve Local Communities
by Howard W. Hewitt • October 9, 2007

Share:
Wabash men across the nation came out in record numbers for the third-annual Wabash Day in early October. The men showed their local communities through service work how Wabash educates men to live humanely.
The total volunteers count so far is 331, which represents a 30 percent increase over last year. The number of alumni increased 17 percent. Last year, 183 alumni participated among 253 total volunteers.
"This is a fantastic result for a new undertaking that calls upon grassroots alumni leadership. But it is only the beginning," said Jon Pactor '71, chair of the NAWM's Wabash Day Committee. "The NAWM will be looking to be event bigger next year."
Wabash Day is short for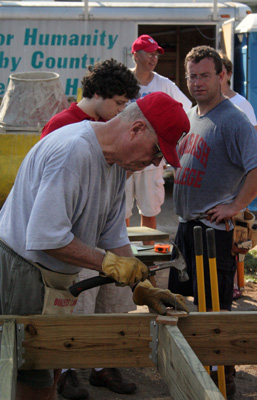 Wabash Alumni Benefiting And Serving Humanity. It is the national day of community service organized by Wabash alumni and carried out by alumni, families, friends, and students.
"I think its wise to promote our own community and help do some service here," said Jim Peters '71, who worked on a Habitat home project in Shelbyville, In. "We all live in Shelby County and the camaraderie of Wabash grads is nice. We don't get together all that often but this gives us a chance."
And that's part of the goal, said Director of Alumni affairs Tom Runge. "Wabash Day is all about making a difference. It's a day of responding to communities' needs on a small, personal level.
"It's also a great time to get young and old alumni alike, together with Wabash parents, families, and friends. Nothing makes you feel as good as doing something good for someone else."
Alumni spanning 52 years participated in various projects. Dick Barger '55 worked in South Bend, and members of the 2007 class turned up at sites across the country. Several Wabash students also participated.
"Wabash Day is about alumni connecting by taking three hours a year out of busy lives of career, and family to bond with fellow Wallies," said Davis Hull '04. "Some of us exchanged numbers and will see each other soon, some of them I am sure I will not see until the next Wabash Day. Can't wait till next year!"
And it just wasn't about the old and new friendships, the Wabash men helped make a difference. Nine Knoxville, Tn. area Wabash men helped at a Habitat project that was being build by women volunteers.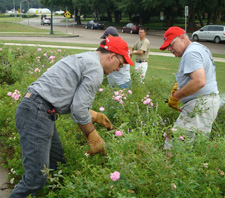 "But the women in charge agreed to let us do our Wabash thing and enter their turf for a day," said Jerry Blossom '66. "Our guys did a great job, even finding and correcting a couple of previous construction mistakes."
Click the links at the upper right to see reports and photos from projects across the nation. And check back, we're still updating the list with several more reporting in we don't have posted just yet. Click here for a PDF file listing all Wabash men participating in Wabash Day 2007.
The other members of the NAWM Wabash Day Committee are Greg Birk '77, Greg Estell '85, Thom Liffick '73, Terry Hamilton '89, John Panozzo '89, and Mark Shreve '04.
In photos: Top left, Wabash men in Shelbyville, In., worked at a local Habitat for Humanity project. At lower right, Wabash grads in Houston, Tx., worked in a park.
On homepage: Dallas alums: Chris Bird '65, Rodney (CDM). Tim Sheets '80, Don (CDM), Jim McDaniel '74, Dan Susie '68, Agapito (CDM), Ray LaDriere '78, Mike Gregory '70, Jason Ellis '04, Troy Scott '64, Anthony Perez '98
On Alumni Homepage: 18 alums turned out in Evansville to work on "Holly's House," a non-profit organization providing single a location for the Domestic violence and Child Abuse Departments of the Evansville Police Department. The house is used for interviews instead of the police station interview room.