Carl Drew '98 Leading Cyclists to Inspire Teens
by Howard W. Hewitt • October 4, 2007

Share:
The story has a familiar feel. A young man comes to Wabash College with the desire to study biology or a pre-med tract and finds it difficult and changes paths. But few Wabash men have chosen a road similar to the byway traveled by Carl Drew '98.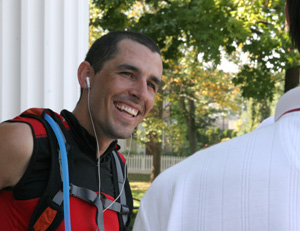 Drew stopped by campus briefly Oct. 4 in the midst of a cross-country bicycle trip with nine friends. The mountain climber, tri-athlete, cyclist, and adventurer was leading the trip to help spread the word about leadership skills to teenagers across the country.
LifeClimb – Teaching Teens to Climb Through Life is Drew's brainchild. He serves as the group's executive director while continuing his career with Vector Marketing, which sells Cutco Cutlery.
He launched LifeClimb in early 2007. The 3,500-mile bike ride features frequent stops as the group talks with teens about leadership and decision making.
Drew was influenced primarily by two men as he was progressing through high school and Wabash. He was a Boy Scout through his early years and took "kind of a geeky path," he joked. "I was the kid wearing my Scout uniform on scouting day."
But an assistant scoutmaster saw a young man from Goshen, Indiana, who could have an average life or an amazing lifetime of experiences. Drew said that scoutmaster became his mentor and introduced him to indoor rock climbing and other adventures.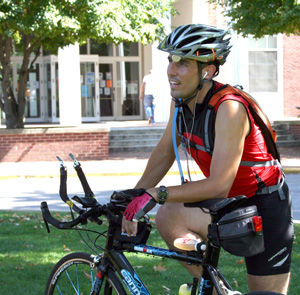 Drew had an older uncle who had graduated from Wabash and became a doctor. So Drew had intended on following in his uncle's footsteps. But a trip abroad to Australia and then school break trips with fraternity brothers to climb outdoors changed his life path.
"I decided at that point my life was going to be in outdoor adventure, but I wasn't sure how," he said. Drew spent his summers selling knives for Cutco and made substantial money during his summer work.
Re-enter his uncle who discouraged Carl from pursuing medical school. "I'd had a conversation, and he said 'You have done so well in sales, and marketing kitchen cutlery and finding your own niche, I'd suggest you just continue that path for the next year or two.'"
So at the end of his senior year, with a psychology major, Drew told brothers at the Fiji house he would continue to sell Cutco knives and then take a year off and travel the world.
He has done just that. In 2006, he climbed K2 in Pakistan, the second-highest mountain on Earth. He has competed in triathlons. He leads adventure tour groups. He still works for Cutco and he's trying to launch LifeClimb through the summer bike ride. The group expects to hit 25 major cities, ride the 3,500 miles and speak to more than 20,000 kids.
The biking group was composed by a group of Drew's friends. The eight riders are Tommy Locklin, Syracuse, In., Rob Lykns, Detroit, Jamar Cobb-Dennard, Indianapolis, Katherine Schwager, Louisville, Jason Jeffery, Grand Rapids, Mi., Brad Weimert, Ann Arbor, Mi., and Neil Kelly, Ventura, Ca.