Indiana Artist Peg Fierke Exhibits Paintings
• October 2, 2007

Share: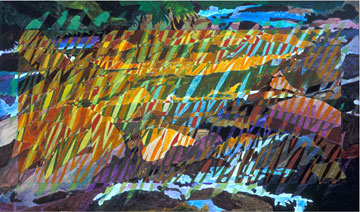 The Wabash College Art Department is pleased to announce its next exhibit. Indiana artist Peg Fierke will exhibit her oil paintings in the Eric Dean Gallery from October 22 through November 29 with a public reception 8-9:30 p.m., Monday, October 22. The artist will be present at the reception.

In addition, the artist will give a gallery talk on Monday, October 22 at 3 p.m. in the Eric Dean Gallery.

Fierke has taught studio courses at Herron School of Art in Indianapolis since 1968, as well as coordinated a number of specialized programs in painting and printmaking. She is represented by Ruschman Gallery in Indianapolis.

Her current work which will be on display is a collection of oil paintings on canvas which range in size, the largest being 4'x6'. Her paintings are characterized by layers of colorful modular fields interacting with underlying images. The shapes and spatial illusions that result from this method create mutations or unpredictable variations across the canvas. Fierke likens this visual result to phenomena readily observable in nature, such as a mass of constantly evolving cells or an undulating stand of wheat. The effect of her compositions is movement and change, made even more striking by her bold use of color and image.

Fierke says of her art, "I look on my work as a means of exploration and discovery as much as an activity that results in an object to be viewed."

The Eric Dean Gallery is located on the south end of the Fine Arts Center. Gallery hours are Monday through Friday from 9 a.m. to 5 p.m. and on Saturday from 10 a.m. to 2 p.m. The gallery and reception are free and open to the public.