Homecoming Ends on Beautiful Note
by Steve Charles • September 30, 2007

Share: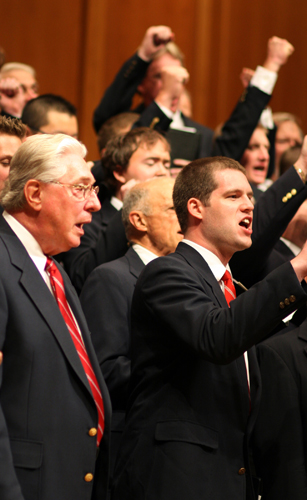 Homecoming 2007 ended on a beautiful note as more than 120 current and alumni members of the Wabash Glee Club took the stage for an extraordinary two-hour concert.
(See Glee Club Concert Photo Album One, Two, and Three.)
"Music is amazing," Glee Club Director Richard Bowen told the a full house in the College's Lewis Salter Concert Hall. "As we get older, maybe we can't run the 100-yard dash like we used to, but we can still sing. And at the end of the evening, everybody wins."
The concert was the highlight of the weekend's Glee Club Reunion, which brought together generations of Glee Club singers—from the Class of 1941 to the Class of 2011—as well as Glee Club directors from three different eras.