Holocaust Survivor Kor Speaks Tonight
by Karen Handley • September 10, 2007

Share: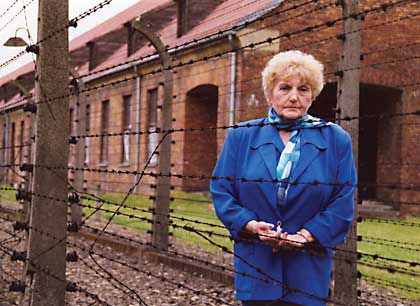 As a part of the Wabash College Experience Indiana Speakers and Artists Series, Eva Kor, a Holocaust Survivor and Indiana resident, will give a talk at 8 p.m. Wednesday, September 12, in Room 101 (Lovell Lecture Room) in Baxter Hall Her talk is free and open to the public.

Eva will speak about her experience as a prisoner in the Auschwitz Concentration Camp and the affects it had on her life. Prior to her visit, a showing of her documentary, "Forgiving Dr. Mengele," which is a first-hand account of the Holocaust from her perspective will take place at 8 p.m. Tuesday, September 11, in Baxter Hall, room 101.
At the age of 10, twins Eva and Miriam Mozes were taken to Auschwitz where Dr. Josef Mengele used them for medical experiments. Both survived, but Miriam died in 1993 when she developed cancer of the bladder as a consequence of the experiments done to her as a child. Eva Kor has since spoken explicitly about her experiences at Auschwitz and founded The C.A.N.D.L.E.S Holocaust museum in Terre Haute, where she now lives. Eva is a graduate of Indiana State University with a degree in education. She has given over 2,500 lectures on her Holocaust experience and is highly admired throughout the world for her strength and power to overcome. She has been interviewed on CNN, with her story and she has appeared in numerous other programs and publications. Her documentary, forgiving Dr. Mengele, received rave reviews from Entertainment Weekly, Los Angeles Times, and the Chicago Reader to name a few.