Dustin Huff Sets Two Records In Win Over Franklin
by Howard W. Hewitt • September 8, 2007

Share:
Wabash defensive back Rich Lehmann denied a Franklin two-point conversion attempt with 24 seconds remaining to give the Little Giants a season-opening win over Central Indiana rival Franklin College, 35-33. See photo albums by clicking here and here.
The game was eerily similar to Franklin's 45-38 win last year. The Grizzlies led throughout in getting the win on their turf just as the Little Giants' did Saturday.
"It did feel like last year, except on the other side," Coach Chris Creighton said. "These were two very similar games. There definitely needs to be a rubber match."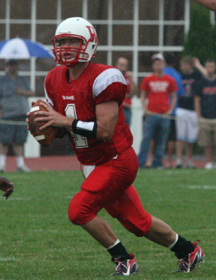 Quarterback Dustin Huff made sure his team didn't have to play come-from-behind this year. He led Wabash down the field on a 10-play, 68-yard drive in its first possession. He hit Gabe Guerrero for seven yards for the opening score.
Huff had a brilliant first outing, setting two school records but leaving the game with 21 seconds remaining with what appeared to be a foot injury sustained on the 'hands' team on an onside kick attempt.
Huff threw for a school record 477 yards and four touchdowns on 27-of-44 attempts. He rushed for another 22. His 477 passing yards broke the single-game passing record held by Jake Knott, 459 yards against Allegheny in 2000. His 499 total offensive yards sets a Little Giant mark also held previously by Knott who picked up 485 against DePauw in 1999.
But just like Wabash wouldn't go away last year, Franklin responded to the opening score with a 75 yard R.J. Hartsfield run and a Machy Magdalinos 32-yard field.
Brock Graham and Bart Banach hauled in Huff passes of six and 53 yards to push the Little Giants out front, 21-10. But back marched Franklin on a Chad Rupp 15-yard pass to Neil Craig with just 14 seconds left in the half.
In a game filled with big plays, none may have been bigger than the two opening drives – the first of the game and the first of the second half. Huff hit Banach for another 53 yard gain then three plays later Brock Graham rushed the ball the final yard to again stretch the Wabash lead, 28-17.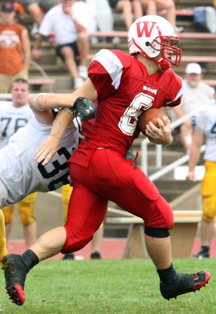 Each time Wabash created the separation necessary to hold off the Grizzlies. "Part of our philosophy is to give people some underneath stuff," Creighton said. "They took some underneath stuff and were able to chip away at us. Our defense came up big today in a lot of ways."
Again, the Grizzlies responded with a Magdalinos 31-yard field goal before Huff hit Guerrero with a 9-yarder, 35-20. Rupp found Austin Gorrell from 11 yards out with just less than 11 minutes remaining. Wabash drove to the Franklin 11, but a fumble and failed field goal attempt kept the Grizzlies in striking distance.
Another trade of possessions set up the final drama. Franklin started from its own 39 with only two minutes left in the game and drove for a touchdown, Rupp hitting Kevin Lynch from four yards out. Franklin set up for a two-point conversion attempt, Rupp scrambled and found a receiver open the end zone but Lehman leaned in for the knock-away to effectively end the game.
"We found a way to win," Creighton said. "Everybody on our team is going to wish we played better and they're probably thinking the same thing. You play a good team and there are going to be plays made by both teams. They made some plays and we made some plays. We're just fortunate to get the win."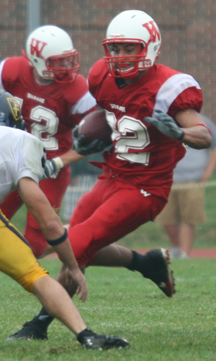 It was a win the Little Giants wanted badly after opening last season at Franklin and getting the loss. The Grizzlies went on to finish 9-1. "We did have a clock up and we've been preparing for this day since January," said defensive back Chad Peterman, who had six tackles in the game. "It's sweet to get out and start playing again after all the work in the off season."

All-American linebacker Adi Pynenberg notched 12 tackles and a sack to lead the Wabash defensive effort. Matt Kraft had 11 stops. Rich Lehmann had nine tackles.

On the offensive side, senior wide out Bart Banach had a career day in more ways than one. The 6-3 wide out had a career-best five catches for 155 yards and a touchdown. "It might have been more in this game than all of last year," he joked afterwards. It turns out he was right. Banach had a total of 18 catches for 146 yards in all of 2006.

Brock Graham led all receivers with eight catches and 44 yards and a score.

Banach's contribution was all the more important with Mike Russell on the sideline nursing an injury. "I'm always ready to go," Banach said. "I got some opportunities to make some plays today and it just worked out."

In photos: Top right, Dustin Huff looks to get off a pass. Center left, Evan Sobecki hauls in a screen pass. At bottom right, Gabe Guerrero with one of his five catches.




Results: Wabash 35, Franklin 33 Game Stats