Hile, Houck, Shreve, Pactor Honored as Class Agents
by Jim Amidon • September 8, 2007

Share:
The Society of Wabash College Class Agents honored their own on the eve of the 2007 Class Agent Forum.
At a gathering of about 100 Class Agents, spouses, Wabash faculty, and administrators, emcee Scott Himsel '85 extolled the virtues of the award-winning Class Agents, President Pat White gave welcoming remarks, and Dean of the College Gary Phillips talked at length about the longstanding tradition of excellence on the Wabash faculty.
Click here to see more photos from the Class Agent Forum Banquet.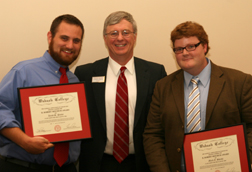 Receiving the R. Robert Mitchum Most Outstanding Young Class Agent Award was the duo of the Class of 2004, Jacob Pactor and Mark Shreve (pictured right).
Shreve and Pactor wrote six letters to their classmates over the course of the year, which not only engaged the alumni with the College, the letters led to increased class giving to Wabash.
"While they wrote an average of one letter every two months and that certainly exceeds our expectations, it doesn't begin to tell the impact those letters had," said Himsel in honoring them. "Their efforts generated a class giving percentage of 32.3%, which by the way, is higher than any class going back to 1991."
Pactor and Shreve's ideas for young alumni engagement and communication have become a model for other classes, Himsel noted. Shreve, too, serves as a member of the Executive Committee of the Society of Class Agents and is also a member of the Board of Directors of the National Association of Wabash Men.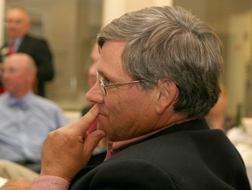 The Class Agents for the Class of 1967 — Duane Hile (left) and Earl Houck — received the Myron G. Phillips Most Outstanding Class Agent Award.
"Duane and Earl worked closely with their award-winning reunion chairman, Clark Dickerson, to send their class 15 letters — over three times the yearly expectation," said Himsel.
The results generated record attendance — 66 alumni — for the Class of 1967's 40th reunion in June. Hile and Houck were also credited for driving alumni giving from their class. Himsel noted that 96 members of the class gave to Wabash for an overall giving rate of 51%.
In his keynote remarks, Dean Phillips talked about Wabash's history of excellence in teaching, noting faculty legends over the years extended their reach to Wabash men far beyond the classroom. Many faculty from across the generations attended the Class Agent Forum Banquet. Phillips used as examples of excellence fourth-year chemistry professor Lon Porter and his student-centered approach to research collaboration, and sixth-year historian Michelle Rhoades' demanding, yet nurturing teaching style. Rhoades, too, was lifted up as a scholar with an international reputation, and Phillips recognized her work in developing immersion learning trips for her students.
Class Agents were in business meetings Saturday morning, working through an agenda that focused on improving reunions and overall communications.