Wabash's Eiteljorg Collection Displayed
• September 7, 2007

Share: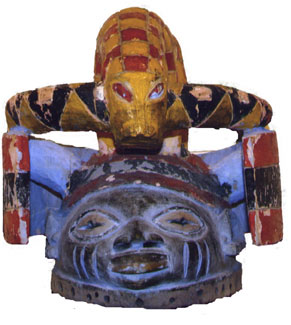 The Wabash College Art Department is pleased to present "The Wabash College Eiteljorg Collection of African Art: Art, Life, and Spirit in Africa" in the Eric Dean Gallery beginning Monday, September 10 and running through November 29. The public is encouraged to attend this free event.

This exhibition highlights the Wabash College's wonderful collection of African art. The collection is a gift from world-renowned art collector, Harrison Eiteljorg and his son Roger S. Eiteljorg, Wabash College class of 1970. The works come from different cultural groups across the African continent, including some stunning pieces by well-known groups such as the Yoruba, Kuba and the Akan.

The exhibit gives a small glimpse into the traditional spiritual lives of Africans. Almost all of the works are ancestral figures or masks, and are therefore reminders of the dynamic relationship between humans, the natural world, and the spirit world. Despite cultural differences, most Africans value a family bond that links the past, present, and future. Thus, many of the masks and figures play a vital role in channeling the spirits of ancestors so that they may advise, assist, and protect the living. Other spirits are also brought to life through masquerades, especially those of totem animals or bush spirits.

The Eric Dean Gallery is located on the south end of the Fine Arts Center. Gallery hours are Monday through Friday from 9 a.m. to 5 p.m. and on Saturday from 10 a.m. to 2 p.m. The gallery is free and open to the public.