Busy Fall: Glee Club, Football, and WABASH Day
• September 4, 2007

Share:
The fall season is packed with events and activities for Wabash College alumni and friends, and all of it begins this weekend when the Little Giant football team opens the 2007 season at home against Franklin.
"The College has plans for an incredibly busy fall, including a Celebration of Wabash Football and a Glee Club Reunion," said Tom Runge '71, Director of Alumni and Parent Relations. "We've got some big things happening on and off-campus, from Homecoming to WABASH Day, not to mention more than 50 Monon Bell telecast parties from coast to coast."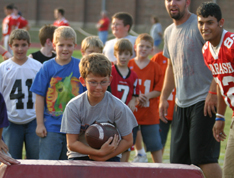 After its final practice of the week this Friday, the football team will welcome more than 100 kids of all ages for its annual Youth Football Clinic. The players run the kids through a series of drills on the field, followed by photograph and autograph sessions. The participants wear their club or school jerseys, while others sport Wabash jerseys courtesy of the Little Giants. On Saturday, the youngsters are honored during the Wabash vs. Franklin game.
Wabash's Class Agents' Forum is scheduled for this Friday and Saturday. The annual event features training and information sharing for the College's more than 120 Class Agents. Awards honoring excellence and service are presented at Friday's banquet.
In addition to Youth Day at Byron P. Hollett Little Giant Stadium, Saturday is also Community Day. No admission fee is charged and proceeds from all concessions are donated to local charities.
"We hope to have a big crowd for the Community Day football game," said Jim Amidon '87, Director of Public Affairs. "It's great to get the whole town behind the Little Giants."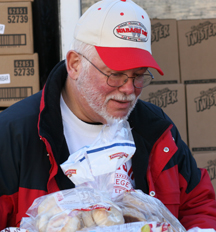 Speaking of local charities, the Third Annual WABASH Day is scheduled for Saturday, October 6. WABASH Day is an acronym for Wabash Alumni Benefiting And Serving Humanity and is the College's nationwide weekend of service. Community service activities are planned in more than 30 cities around the country. For information on the alumni leading programs in your area, click here.
Wabash will celebrate Homecoming at the end of the month. The National Association of Wabash Men will hold its annual meeting at the Saturday morning Homecoming Alumni Chapel, at which time six alumni will be honored and Wabash will honor Jasmine Robinson as an Honorary Alumna. Receiving Alumni Awards of Merit are Joseph Barnette '61, David Kendall '66, and Bob Einterz '77. Dick Ristine '41, Dick Griesser '51, and Jeff Wilson '91 will be honored as Alumni Admissions Fellows.
Homecoming also features the meeting of the NAWM Board of Directors and a reunion of the Wabash College Glee Club. The Alumni Glee Club will perform at Chapel, again at the Annual Fund's Celebrating Leadership Luncheon, and at a special Homecoming Concert Saturday night.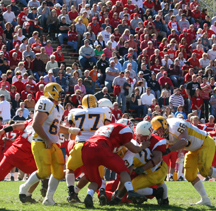 The Wabash soccer team hosts North Coast Athletic Conference rival Denison University at 11 a.m. at Mud Hollow Field, while the football team hosts Earlham College at 2 p.m. Click here for a complete schedule of Homecoming Events. Needless to say, the living unit spirit competition — floats, banners, cheers, and queens — will be worth the trip to Crawfordsville!
Finally, all Wabash football alumni are encouraged to register for the Football Reunion on Saturday, October 13. The football team will host Wittenberg University at 1 p.m., after which there will be a dinner honoring Wabash's long football tradition. Wabash will raise a banner for the 2002 team, which finished 10-0 in the regular season and 12-1 overall. Wabash will also pay tribute to the 1977 Stagg Bowl team and the 1982 undefeated squad on their 30th and 25th anniversaries, respectively. For more information on the football reunion, contact Heather Bazzani.