Little Giants Claim Hokum Karem Title
by Brent Harris • September 1, 2007

Share: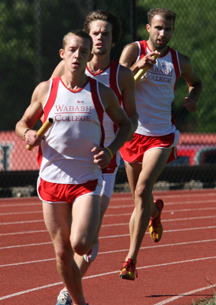 The Little Giant cross country team honored J. Owen Huntsman's legacy with a victory in the 46th Wabash Hokum Karem Saturday morning. Wabash took second through fourth in the combination cross country and relay race to claim the team title for the first time since 1996.
Geoff Lambert and Hugh Jackson combined for second place for Wabash, finishing in 29:54 and only ten seconds out of first place. Teammates Sam Compton-Craig and Seth Einterz were right behind, with Einterz racing to the finish line to complete the race in 29:58. Ben Bly and Matt Maher were joined together to finish fourth overall with a time of 30:00.
(View photo album number 1 and number 2 from Saturday's race.)
Saturday's meet started and finished on the very track that bears Hunstman's name.
The Hokum Karem was created by Huntsman as a conditioning race. A pair of runners alternate laps around a one-mile cross country course on the Wabash campus until each has completed three miles. The first Hokum Karem took place in 1962 between Wabash and the University of Chicago.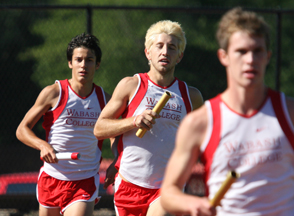 "Our top three pair of runners did exactly what I asked them to do," Head Coach Roger Busch said. "I wanted them to run early behind DePauw's top pair and either hang on our make a move late in the race.

"I was most pleased with how close our top-three paris finished. That combination of six guys and the relay style of racing works well. We also got great support and a great effort from our middle group of runners. They are a younger group of runners and are improving every day."

Wabash scored a total of nine points in the team competition, scored exactly like an individual cross country race with the victory going to the team with the lowest point total. DePauw was second with 15 points. The University of Indianapolis took third place (26 points), while Millikin was fourth (28 points).

DePauw won the women's race with a total of nine points. The women compete over the same one-mile loop, running a total of four miles between the two teammates.

The Little Giants return to action next Saturday when they compete at the Great Lakes Colleges Association Cross Country Championship Race at Kenyon College in Gambier, Ohio.

Photos
Top left - Ben Bly leads teammates Sam Compton-Craig and Geoff Lambert during the early stages of the Wabash Hokum Karem.

Bottom right - (left to right) Seth Einterz, Matt Maher, and Hugh Jackson stayed together as a pack throughout much of the race to lead the Little Giants to the win.

Main pages - The Little Giants celebrate their first Hokum Karem victory since 1996.




Results: 46th Wabash Hokum Karem - First out of four teams Game Stats