Seib '01 Lands Role in New Broadway Musical Production
by Howard W. Hewitt • August 28, 2007

Share:
Chad Seib '01 is about to live every performer's dream. He'll perform with a major star in a much-anticipated Broadway musical opening Dec. 3 in New York
Seib, a Poseyville, Indiana, native, has landed a role in Lone Star Love. The musical comedy is adapted from Shakespeare's The Merry Wives of Windsor. It received critical acclaim in an Off-Broadway production in 2004 and now will get its run at the Belasco Theater. The show's preview begins Nov. 1 in New York followed by the December official 'opening."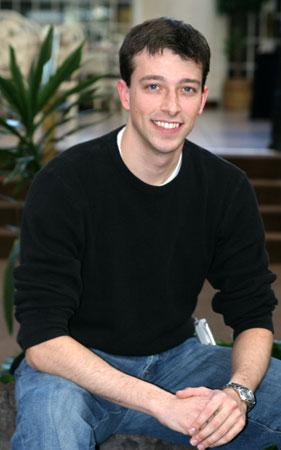 The production will star Academy Award-nominee Randy Quaid in his Broadway debut as Colonel John Falstaff. Tony Award nominees Robert Cuccioli and Dee Hoty will also have major roles. The play is directed and choreographed by Randy Skinner. Seib will play the role of Lucas and act as an understudy for two other roles.
Seib got one of his first breaks touring in 42nd Street, a show choreographed by Skinner. The Wabash grad ran into Skinner after moving to New York and attended a few of his classes. He auditioned for a stage version of Irving Berlin's White Christmas, but was sent to the musical director for Lone Star Love.
"It was a month before I heard back from Randy who invited me to the final call back," Seib explained. "I ended up singing and dancing again, and reading for a few of the roles in the show. The next day I got the call."
Seib toured late last year in an international production of West Side Story. He decided to move to New York this year to further his career. He auditioned for several shows and continued to work with a vocal coach and dance instructor. "I had no agent and no equity card, but felt good," he explained.
He had a near miss making the final two of 100 men considered for a spot in "A Chorus Line," but the other guy got the spot because of experience.
"Even though I realized it would be hard to break into the Broadway scene, I knew I was close. Getting that close gave me the inspiration to work harder and confidence a performer needs when walking into an audition. Confidence is the key."
Seib will be in Seattle all of September for a preview run of Lone Star Love at the 5th Avenue Theater. The show runs through Sept. 30. It's then two weeks or rehearsal, a two-week break, then the November preview run begins in New York.
It's all a dream come true, he said. "Because it is an original Broadway production, we will be recording a Broadway cast recording. While I won't be singing a solo on the recording, if you know me, you will probably recognize my voice."
SEIB NOT ALONE
Chad will not be the first Wabash man to work on the Great White Way. Long-time Professor of Theater Dwight Watson notes Tom Broeker '84 was a costume designer for Side Man. Marcus Doshi '97 is working nationally and internationally as a lighting designer.
Several Wabash graduates are actors in New York. Watson was not sure of their credits but added they might well have Broadway experience. Those three are Michael Dalby '79, Michael McDonough '92, and Dan Jacoby '84.
On homepage: Seib, on right in photo, during rehearsals for Lone Star Love.