Princeton Review: Wabash=Great Classroom Experience
• August 21, 2007

Share:
Wabash College soared to the top of the rankings in The Princeton Review's annual college guide, The Best 366 Colleges. The New York-based education services company ranked Wabash among the top colleges in the nation in the quality of life for students and the accessibility they have to their professors.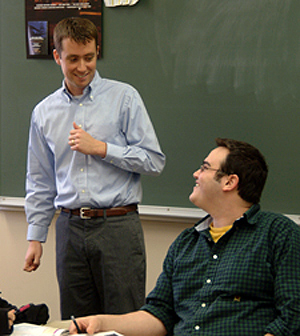 Wabash is ranked in the top 20 in 10 categories in this year's guide.
"We chose schools for this book primarily for their outstanding academics," said Robert Franek, Princeton Review's Vice President of Publishing. "We evaluated them based on institutional data we collect about the schools, feedback from students attending them, and our visits to schools over the years. We also consider the opinions of independent college counselors, students, and parents we hear from all year long. Finally, we work to have a wide representation of colleges in the book by region, size, selectivity and character."
Rankings are based on the results of an annual survey of more than 120,000 college students that attend the 366 schools selected for inclusion in the college guide.
Wabash received an academic rating of 98 and a quality of life score of 93. In terms of rankings, Wabash was ranked second of the 366 profiled schools in the category of "Best Classroom Experience." That ranking, coupled with Wabash's seventh place position in the category "Professors Make Themselves Available" and eighth position in "Professors Get High Marks" helped Wabash rank 17th in the "Happiest Students" category.
"The Princeton Review creates a college guide that is useful for prospective students and their families because it presents information from the students' point of view," said Jim Amidon, Director of Public Affairs and Marketing at Wabash. "This year's guide suggests that Wabash students work very hard in the classroom and are supported in their studies by good, accessible professors, the result of which is an amazing classroom experience."
Another telling rating is the score of 99 Wabash received for its financial aid program, buoyed by the number seven ranking posted in the college guide.
Wabash is ranked in the Princeton Review's Best 366 Colleges guide in the following categories:
#2 - Best Classroom Experience
#3 - Everyone Plays Intramural Sports
#4 - School Runs Like Butter
#5 - Jock Schools
#7 - Professors Make Themselves Accessible
#7 - Students Happy with Financial Aid
#7 - Their Students Never Stop Studying
#8 - Major Frat and Sorority Scene
#8 - Professors Get High Marks
#17 - Happiest Students
A college's appearance on these lists is attributable to a high consensus among its surveyed students about the subject, according to The Princeton Review's press release. The 80-question survey asked students to rate their schools on several topics and report on their campus experiences at them. Ranking lists report the top 20 schools in categories that range from best professors, administration, and campus food to lists based on student body political leanings, race/class relations, sports interests, and other aspects of campus life.
The Princeton Review (www.PrincetonReview.com) is a New York-based company known for its test preparation, education, and college admission services. The Best 366 Colleges is now available at bookstores (Random House Publishing, $21.95).