Journal Review Profiles Phillips' Bird-Watching Hobby
by Sam King • August 1, 2007

Share:
Wrestling weeds up to his shoulders in a northern Montgomery County wetland, J.D. Phillips is grief stricken when he discovers a flock of swallows perched on a powerline.
Though he brought his 20D Canon camera, he's left it in his truck, several hundred yards behind. A pair of binoculars strapped to his shoulder are whipped quickly into his hands, much like a shooter drawing a gun in a shoot-out, when spotting the flock. Moving closer, he's amazed at how calm the birds are because they've yet to take flight, almost daring him to get as close as he can.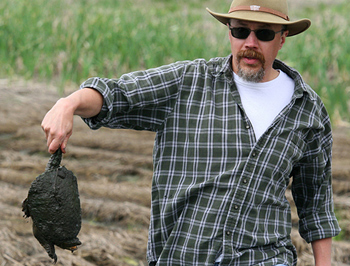 He calls out names of other species in the area, sometimes without even seeing them. Hearing a chirp, he stops and recognizes it as that of a bobwhite, then points to a dickcissel, blind to the non-birder.
Without ever seeing the feathered creatures, Phillips can identify them by sound after 20 years as an avid birder. The Wabash College math and computer science professor spends an ample amount of time weaving through bushes and swamps to spot birds, sometimes even the rarest in Indiana.
While a trip down Montgomery County Road 650 N is just that for most people, Phillips champs at the bit after spotting mallard ducks in a pond 300 yards from the driver's seat of his truck. Wielding camera equipment worth well above $1,000 (Phillips' lens alone was $1,300), such is the life of birders, known to some as birdwatchers. And the best place to find some of the most rare species may be in your own back yard.
"For serious birders, the best area to bird and know extremely well is your own county,' Phillips explains, binoculars in hand waiting for the next bird to take flight.
In fact, Phillips has spotted 99 different species in his yard on West Main Street, including the seventh ever recorded white-winged dove in Indiana two springs ago.
"It makes you realize how often birds end up where they are not supposed to be," he said.
He's spotted short-eared owl in north central Crawfordsville and calls the wetland he's tracking — known as The Burn — "one of four or five spectacular places to bird in the county" and "one of the best places in the state for sparrow."
Learning Phillips enjoys the sport doesn't take long. Moments after turning onto a gravel road, he points out numerous different species.
Though it's the worst time of year for birdwatching, Phillips is antsy to continue and spot more, creeping down a bank to a creek where a turtle pokes its head out of water. Like a kid at Christmas, Phillips is gung-ho about each bird and is quick to differentiate males from females.
"There is sexual dimorphism," he said. "The females are much bigger than the males."
Aside from size, males tend to be more colorful because they have to be attractive for mating, he said. While circling the 88 acres of The Burn, so titled because a 1936 soil fire torched the area, Phillips' knowledge is put to the test, identifying some birds simply by mannerisms before being able to make out their color. Despite his birding wisdom, there's room for more.
"The better you get at birding, the more you realize you don't know," Phillips said.
Though his love of birding has stemmed from 20 years of seeking certain species, his love for the outdoors traces back to his childhood on his father's farm in Plymouth County, Iowa, just north of Sioux City. Seeing the Loess Hills there got him interested in the outdoors.
"This (birding) is an outgrowth of that," said Phillips. "It occurred to me, 'Wow,' this is a whole new dimension.'"
Birds are harder to spot in the summer because leaves fill the trees and migration takes place during the fall and spring, but Phillips has no trouble pointing out the birds that spend summers here. More than 400 species of birds have been spotted in Indiana and more than 200 have been seen in The Burn alone, many of them threatened species because of loss of habitat.
Phillips, however, has taken his hobby elsewhere, including Ecuador and north of Seattle, where he spotted all five North American falcons in the same day — a feat he is proud of because of the rarity of doing so.
Soon he'll get the chance to bird in Prague — capital of the Czech Republic. Phillips will take a sabbatical leave for a year and use grant money to research group theory at Charles University. His wife and children will make the move, too.
He'll make sure not to leave his camera behind this time.

King is a reporter for the Crawfordsville Journal Review.