Wabash Alumni, the T-Bones, and Dollar Hot Dogs - Fun!
by Tom Runge • July 17, 2007

Share: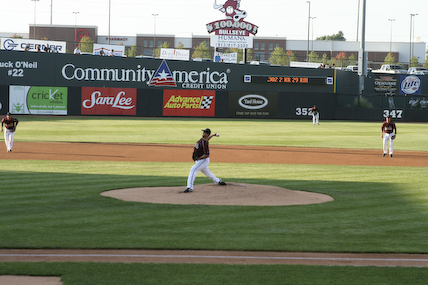 Alumni and their spouses from the Kansas City area gathered Monday evening to attend the Kansas City T-Bones baseball game. A good time was truly had by all.
The T-Bones put on a valiant rally in the bottom of the ninth inning scoring 5 runs but fell short in a 11-9 loss to the Joliet Jackhammers. Both teams play in the independent Northern league. The game was popular, drawing over 5,500 people on a Monday night. More information on the T-Bones can be found here.
The get-together was organized by Ned Luce '66, local regional association leader, and his wife BJ (DePauw '66). Ned secured first base line seats in the 8th row - a great location. We were joined by recent graduate Ross Dilliard '07 and current student Alex Nolan '08. Alex is an intern for the summer at Kansas University - doing organic chemistry research. As you can imagine, the Grunge didn't go into detail about that!
To top off the Wabash Kansas City experience, I listened to talk radio 980 AM on Tuesday morning - one of the hosts of the morning show was none other than Wabash's own EJ Becker '94.
For photos, click here.