Indiana Has Growing Cheese Industry
• July 10, 2007

Share:
Cheese is a human tradition. Since the domestication of goats and sheep 12,000 years ago, historians speculate the preservation of milk by the most effective non-refrigerated means, cheese. Ancient Greece and Rome have numerous documents and traditions that continue today, from Feta to Parmesan. Indiana history is no less rich in the importance of cheese. Pioneers needed a way to keep their rich milk spring and summer supply over the winter, and there are numerous documents that helped support farmers in cheesemaking, including a dissertation from 1813 on methods and practices.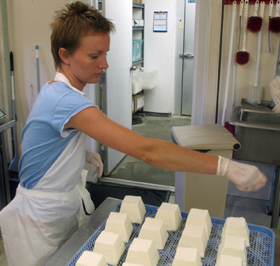 Today, however, cheese is far less a necessity and far more a healthy indulgence. Ross McKinney studied Indiana's cheese industry and its history, and found surprising results. Indiana is home to Fair Oaks Farms, one of the largest dairies in the nation and producers of numerous award winning cheeses. The farmers markets in Broad Ripple, Carmel, Zionsville, and even Crawfordsville are known to have fine Indiana Cheeses. Organic cheeses are also a growing trend, especially at The Swissland Cheese Co., in Berne, IN.
The particularly enlightening part of the journey was with Ross' trip to Greenville, Indiana to Capriole Farms. Capriole , owned and operated by Judy Schad, is also home to 500 dairy goats. The highly European influenced artisanal style of the cheese is some of the world's best according to experts like Max McCalman, Maître Fromager. Cheeses like the Wabash Cannonball, a natural rind fresh chèvre, and the aged Mont St. Francis are truly the best in the state.
Ross' presentation focuses on the cheesemaking process, interesting and delicious tastings, and highlights of key Indiana cheeseries.
Ross McKinney '09 is a history major from Cicero, IN.