New Life for French Lick Luxury Resorts
• July 10, 2007

Share: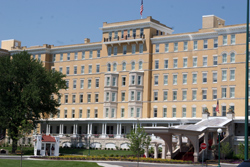 The glory of French Lick Springs and West Baden Springs has been raised from the crumbling desolation that they embodied just a few years ago. They are now magnificent examples of nostalgic glamour and slender posing as the newest beacon for vacationers looking for first rate luxury resorts.
The resorts got there start in the Springs Valley in southern Indiana when Dr. William A. Bowels opened the French Lick House in the mid 1800's. Not long after, Dr. John A. Lang founded the West Baden Springs a mile down the road. Soon the bustling inns caught the eyes of the business savvy. Lee Wiley Sinclair would take over West Baden and after a fire turned it into the "Eighth Wonder of the World". Thomas Taggart took control of French Lick Springs and developed it into a convention and vacation center for all of America.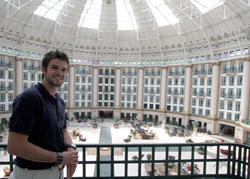 Through the Depression and the eventual gambling interference by the Indiana State Police, the resorts fell out of prosperity. Over the years they would degrade into shells standing as monuments to the former glory they held in their hay day.
In 1996, Indiana billionaire Bill Cook and his wife Gail took action and along with the aid of the Historic Landmarks of Indiana and a license to build a casino, were able to haul the giants back from the brink of destruction. With their new found glamour, the resorts promise to continue to flourish and even exceed their original brilliance.
Matt Goodrich '09 is from Westfield, Indiana.