Summer Camps in Full Swing at Wabash
by Brent Harris • June 15, 2007

Share:
Fifty-three soccer players raced up and down the Mud Hollow Field during the week, working on various drills and techniques under the watchful eye of Wabash soccer coach Roberto Giannini and his assistants.
An early practice? Extra work before the start of the season?
No, just another successful summer youth camp at Wabash.
Giannini provided two camps during the week to the surrounding community, one for elementary aged children and one for junior high and high school players. Nearly all of the participants from his first camp in 2006 returned, and with the addition of several first-year campers in 2007 the participation numbers hit a new level.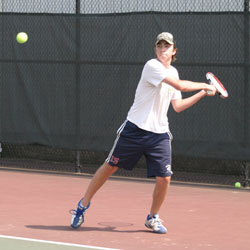 Tennis coach Jason Hutchison has already being working as an instructor over the past few weeks, teaching private lessons in addition to offering summer camps for the same age groups. (View photos from the soccer and tennis camps.)
The Bishop-Dullaghan Football Camp will begin next Tuesday, with 300 wrestlers ready to hit the mats in another week for the 2007 Brian Anderson Wrestling Camp. The first of two high school basketball shootouts have already taken place, with the final session scheduled for June 30. Mud Hollow Field will also play host to the Indiana Bulls' summer baseball showcase tournament for 17- and 18-year-old high school players from around the Midwest.
A total of nearly 800 campers will participate in sports camps at Wabash this summer.