Present Indiana Internship Has Students Studying State
• June 6, 2007

Share:
Nine Wabash students are spending the first eight weeks of their summer studying historic and culturally interesting aspects of the Hoosier state.
The Present Indiana Project, funded by Lilly Endowment, is in its third year as part of a Quality of Life Grant. The students tackle a subject to research then work on audio and visual presentations they will give at least five times during the coming school year.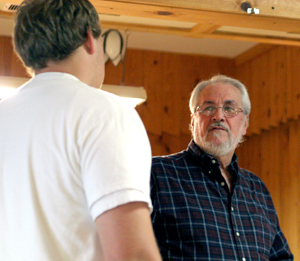 Past projects have included historic New Harmony, Indiana limestone, Milan basketball, Kurt Vonnegut's family, exploration of the Wabash River, and Indiana's covered bridges.
Additionally, the summer interns write about what they've learned and their shared experiences in a blog, (Present Indiana), updated two or three times each week.
"The quality of the projects and the students' engagement has really improved each year," said Director of New Media Howard Hewitt, who assists David Clapp in overseeing the program. "This year the guys have done more in-depth work than ever before.
"Besides the traditional methods of research, the students have had to perfect their interviewing and observational skills. They will begin to pick up some technical skills while building their video and PowerPoint presentations. Finally, they improve their public speaking abilities when presenting their projects."
Each student has a faculty, staff, or friend of the college mentor to help guide them through their projects.
The 2007 participants, hometown, and their projects:
Nathan Schrader '10, Lafayette, Ind., is studying the architecture of Columbus and Madison, Indiana.
Zac Simpson '09, Cicero, Ind., will develop a project on the best hiking and backpacking Indiana's State Parks have to offer.
Ross McKinney '09, Cicero, Ind., is completing a project on Indiana little-known cheese industry.
Jacob Peerman '09, Boonville, Ind., is studying Indiana's booming wine industry and its cultural impact.
Mitch Brown '10, Plainfield, Ind., has spent plenty of time in Nashville learning about Brown County's artist colony.
Steve Egan '09, Crown Point, Ind., is taking a look at the different faces of Indiana's Amish population.
Matt Goodrich '09, Westfield, Ind., is researching the resurgent French Lick Springs and West Baden hotels. His project included a June 7 group trip of all the Present Indiana students to the two magnificent hotels.
Robert Campbell '10, Veedersburg, Ind., is using his history major to look at the Battle of Tippecanoe.
Matt Vest '09, Princes Lakes, Ind., is working with German professor Greg Redding to look at the arch abbey at St. Meinrads and the Sisters of St. Benedict at Ferdinand.
In photo: Brown talks with his mentor artist Wayne Waldron in Waldron's Nashville, Ind., gallery.