Clay Robbins '79 Inducted into Indiana Academy
• June 6, 2007

Share:
President of Lilly Endowment Inc. Clay Robbins '79, along with four other Hoosier leaders, was inducted June 4 into the Indiana Academy.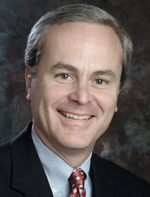 Robbins, Indianapolis, is a member of United Way of Central Indiana, Greater Indianapolis Chamber of Commerce, and Central Indiana Corporate partnership. He is also a former law partner at Baker & Daniels and former director and president of the Indianapolis Chamber Orchestra.
This year's honorees, the thirty-seventh group so selected, are being recognized by the Independent Colleges of Indiana for their contributions to cultural, scientific, literary, civic, religious, and educational development in Indiana.
Membership in The Indiana Academy is one of the most prestigious honors conferred upon a Hoosier, based upon the recognition of the individual's lifetime achievements by Indiana's 31 independent colleges and universities.
The other 2007 inductees are Governor Mitch Daniels, CEO of Industrial Contractors of Evansville, Alan W. Braun; co-chairman of the Simon Property Group, Melvin Simon; James Vann, current chairman of the executive committee and majority shareholder for Rea Magnet wire Company of Fort Wayne.
Modeled after the French Academy, The Indiana Academy was established in 1970 by the Independent Colleges of Indiana to further the development of public service, higher education, the arts and sciences, literature, and the general culture of the state through the recognition of individual leadership, achievement, and philanthropy designed to promote these ends. While supported by many over the years, the inspiration and driving force for The Indiana Academy was Indianapolis attorney and civic leader Kurt Pantzer, president of The Academy from 1971 to 1977.
Robbins remains active in Wabash College alumni affairs. He has two sons attending Wabash, Campbell '09 and Luke '11.
Robbins has received the Alumni Award of Merit from the National Association of Wabash Men; was named the 2007 Man of the Year by the Indianapolis Association of Wabash Men; and he received an honorary degree from Rose-Hulman at the 2006 graduation ceremony.

Independent Colleges of Indiana, Inc. (ICI) is a nonprofit corporation that represents the state's 31 nonprofit, accredited, undergraduate degree-granting institutions of higher education. ICI member institutions enroll more than 80,000 students (approximately 23 percent of all students statewide) and annually produce 32 percent of all bachelor's degrees in Indiana.