Big Bash '07 Colloquium Sessions
• June 1, 2007

Share:
Greg Castanias: Reflections on the Supreme Court and Wabash Lawyers
Greg Castanias has been a partner in the Washington, D.C. law firm Jones Day for well over a decade, specializing in the firm's Issues and Appeals practice. During his career he's dealt with a broad swath of cases, but none have been more challenging than the three cases he's argued before the United States Supreme Court.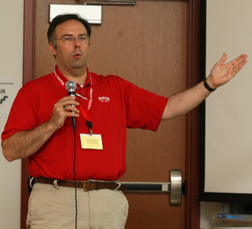 Castanias says the first thing you have to do when preparing to argue before the nation's highest court is "redefine victory."
In his first case, ExxonMobil v. Saudi Basic Industries, Castanias argued before the court of United States Chief Justice William Rehnquist. Castanias joked that the Chief Justice wasn't involved in the case, "So I lost the case 8-0 instead of 9-0."
During his Big Bash colloquium talk, Castanias gave a behind-the-scenes look at the Court and the various traditions involved with the proceedings. He said television cameras don't adequately show the intimacy of the courtroom.
"When you approach the building from the outside, it's very intimidating with its huge white columns," Castanias said. "When you get inside, the space is very intimate. The counsel tables are very close to the bench where the justices sit. It's a gut-wrenching experience when you're sitting at the counsel table before the Court."
When he argued that first case in 2005, Castanias had to redefine victory: "I just tried not to get sick when I went to the podium."
Castanias explained the inner workings of the Court and how attorneys have exactly 30 minutes to argue their case. He also said the Justices seem to take great pleasure in interrupting the argument in process.
"In my first case, Justice Stevens actually asked the first question as I was approaching the podium," he explained. "He said, 'Mr. Castanias, I hope you'll tell us also whether you think the case is moot before you're through.'"
The two other cases he's argued have been before two different Court terms. He argued the United States v. Georgia/Goodman v. Georgia in 2006, and earlier this spring argued Sinochem International Co. v. Malaysia International Shipping before the Court of Chief Justice John Roberts.
Castanias also paid tribute to several other Wabash lawyers who have argued important cases before the Court. He mentioned Tom Fisher '91, David Kendall '66, David W. Peck '11, and Norman M. Littell '21, who argued his first case before the Court when he was just 34 years old.
- Jim Amidon, Public Affairs
Pete Metzelaars: Sharing Career with Family Biggest Reward
A 16-year career in pro football, four Super Bowl appearances, and a lifetime of memories highlighted Pete Metzelaar's Saturday afternoon colloquium appearance.
The 1982 Wabash graduate played with four different NFL teams during his career but is probably best remembered for his years with the Buffalo Bills when he started four straight Super Bowls along side Hall of Famers Jim Kelly and Thurman Thomas.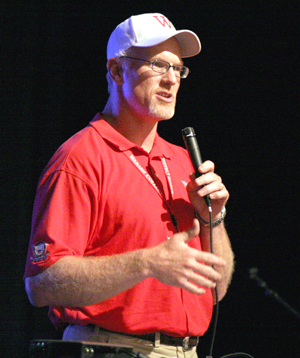 Metzelaars opened his session with a short film of his career highlights. His size, toughness, and longevity were clearly the hallmarks of his post-Wabash career. But most of his presentation was anecdotes about his career in the NFL.
He also shared some of the feelings he's enjoyed in 2007. After the frustration of four Super Bowl appearances without a win, Metzelaars got his ring this year as Offensive Quality Control Coach for the world champion Indianapolis Colts.
"It's an incredible experience winning a Super Bowl," he said. "Having been to four Super Bowls and lost all of them – boy, it is nice to win one."
But the incredible professional experiences as a player and coach have come secondary to being able to share those experiences with his two sons and wife. "In 16 years in the NFL the greatest thing about all of it was being able to share it with family and friends," he said. "It was so much fun to win a Super Bowl, have the boys be there, and get to enjoy it. To have those experiences, is priceless."
The basketball All-American, who led the Little Giants to a Div. III National Championship, noted his boys have been a huge part of enjoying the success. He shared stories of the athletes and celebrities the boys got to meet and talk with during his NFL career but also the boys' mischief in professional locker rooms.
He spent a short time in front of a packed Ball Theater audience discussing the Colts' up and down season and incredible playoff run. He talked about the playoffs, the Super Bowl, and his new favorite photograph.
He had a picture taken with his boys holding the Lombardi Trophy in the locker room after the Colts' Super Bowl win. "That's my new favorite photograph," he said.
"How I ended up in the NFL, I have no idea," he said, recalling his Wabash career. "I came to Wabash as a 6-6, 200-pound, option quarterback. Coach Stan Parrish, on about the second day, asked me if I wanted to play tight end and I said no. Then he asked me if I wanted to play, so I became a tight end."


He called his job with the Colts "probably the best situation in the NFL." He lauded the organizations management, coaches, and players.
But Metzelaars was abundantly clear during his hour-long talk that sharing it with family beats all other accolades.
- Howard W. Hewitt, Public Affairs
Fishing for Muskies in Indiana
Self-described "country lawyer" Rick Helms '67 not only told alumni the secrets of catching "the fish of 10,000 casts," but he brought in the Indiana recordholder for show-and-tell. Click here for a photo album.
- Steve Charles, Public Affairs
Jo Throckmorton: My Life in Film
Jo Throckmorton first started making movies in high school and made what is believed to be the first recruiting video for Wabash radio station WNDY while he was a student here.
Since that time, Throckmorton, who owns Blue Ace Media, has made everything from on-campus promotional videos for Wabash College to commercial films for Toyota in Los Angeles.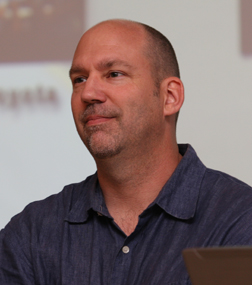 During his Big Bash colloquium talk, Throckmorton described the process of telling stories through video and film and how even the most mundane projects must have a story behind them to be compelling.
To illustrate his point, Throckmorton showed two commercial films he made for Toyota and shot in Los Angeles. One featured dialog between two central characters; the other had a one-line voice over at the end. The result? Throckmorton's "silent story" was a big hit and the piece is still in use today.
"Conflict makes good stories, too," he said. He then described the 10-year process of making a documentary film about the Malcolm X Institute of Black Studies at Wabash. "I spent eight years imagining how we might tell that story then almost two full years making the movie.
"Actually, if I hadn't had a deadline, I'd probably be editing that piece for another five years."
Throckmorton has won a range of awards for his commercials, training films, and promotional videos. In fact, two of the videos he's produced for Wabash College garnered Telly Awards as the top projects in educational filmmaking.
"Not every good story gets told," he said. "There's one film that I really, really want to see be made, but right now there's no funding. And that tends to be the central reason why good stories never get told."
The piece he talked about is an ongoing, but stalled documentary film entitled "Year in the Heartland," which follows three Central Indiana farming families from just before harvest one year through harvest the next.
"It's an amazing series of stories that simply must be told. We could learn so much from the people who have lived their lives as farmers."
Part of that learning translates to filmmaking, he said, noting the collaboration that occurs when good films are made. "It takes a lot of partners working together, from writers and editors to the producers. Working with talented people is what makes what I do so much fun."
- Jim Amidon, Public Affairs
The Ultimate Retirement—Owning a Bed and Breakfast

Three Wabash alumni and their spouses shared the ups and downs of owning a bed and breakfast—from Crawfordsville, IN to Chiapas, Mexico—and a few hilarious stories, as well. Click here for a photo album.
- Steve Charles, Public Affairs
Brandon Mitchener made Career Covering Europe
Big Bash weekend featured more than a dozen colloquiums that allowed alumni to learn interesting facts about what other Wabash men have done since graduation. One alumnus talked about his experience with professional football. Another talked about his film career.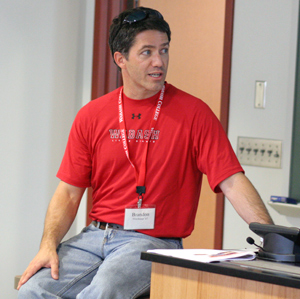 Brandon Mitchener '87 talked about a subject with which he has become intimately familiar as an international journalist, the European Union.
Mitchener has lived and worked in Europe more than 15 years. After the Indiana-native graduated from Wabash, he studied in Europe for a year under an Ambassador Scholarship sponsored by the Rotary Club. When he returned to the states, he read regularly about world events but had quarrels with the accuracy of European coverage. Having written for a number of publications at Wabash and having received a number of awards for his work, Mitchener applied to work for Reuters but was turned down because he did not have enough journalism experience. He then enrolled in Columbia University's international affairs journalism program and was hired by Dow Jones New Wire. Until 2004, he worked as a correspondent for various international news outlets. He now works for APCO Europe, a public relations consulting firm.
Mitchener's presentation, The European Union at 50 – and what the U.S. can learn from Europe, was designed around a theme of answering his own rhetorical questions about the topic. Why talk about Europe? What kind of Union is it? What is in store for its future? What can Europe teach the US?
Europe should be talked about because it is the biggest economic unit in the world and because its regulatory system dominates the world, said Mitchener. In addition to the Native Americans, Europeans are largely responsible for settling America, and so, just maybe, the United States could learn something from them.
At present, the EU is made up of 27 countries, from Great Britain to the Eastern bloc. It consists of a Commission, a Parliament, a Council, and a Court and functions as a loose federation of states that seek cooperation for shared prosperity. Some, Mitchener pointed out, actually see it as the location of the anti-Christ because of its symbols, including its flag, national anthem, and its many languages.
"The realities are more prosaic," said Mitchener. "It's really a unity of treaties."
The EU is the result of several treaties, beginning with the European Coal and Steel Community.
An International Herald Tribune poll in March shows that people think the EU will continue to grow, its currency continue to get stronger, and that it will lead the way in renewable fuels.
Mitchener closed his talk by contrasting Europe's progress with America's recent setbacks. He spoke of Europe's increased economic power, its universal healthcare, uniform license standards, free college education, six week vacations, low gun violence, public transportation, energy initiatives, its soft power, and its social market economy.
"People [in Europe] don't have the feeling that they are totally left out," he said, drawing a contrast between the US's approach to governing and Europe's.
- Gary James '10
Journeys
"Our journey is about the depth of time that gathers around us," Professor Emeritus of English Bert Stern said during Friday's session on "Journeys." "As I've grown older, I realize not only the weight of time, but also the depth; the mystery deepens for us."

Stern and Earl Arnett '62 led a discussion of the journeys we take through life and the stories we tell, while inviting alumni to tell a few of their own. Click here for a photo album.
- Steve Charles, Public Affairs
Chris Carr Found His Calling Working with Top Athletes
Dr. Chris Carr '82 came from a line of Wabash men. His father Bob graduated in 1959. His brother Kyle '85 was a Biology major and Lily Scholar at the college. In contrast to his brother, one could describe Carr's academic achievement at Wabash as average at best. "Kyle was one of those who graduated summa cum laude with honors," said Carr. "I graduated cumma homa soona."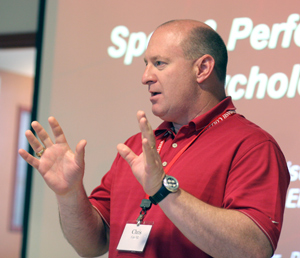 With that type of deprecating humor littered throughout, the doctor began his Big Bash Colloquium titled A Sport Psychologist's Journey in Working with Elite Performers. As a sports psychologist, Carr's counseled some of the world's top athletes and worked with top athletic teams including the US Olympic Ski and Dive Teams, the Kansas City Royals and the entire athletic department of Ohio State University.
Although sports psychology is a legitimate academic field with tangible athletic benefit, Carr explained many still do not understand the importance of psychological assistance as it is related to athletics. Carr provides an example from his first day of work with his first job at Washington State. When he was talking to a coach he said "Coach, good to meet you, my name is Chris Carr.' 'Oh, good to meet you' the coach said, 'you must be our new shrink' I said no coach, I am your new stretch."
Even though sports psychology is still considered a stigmatized profession, there has been significant research into the most important psychological aspect of an elite athlete – his optimum performance. Carr said excellent performance is in the context of an avenue of competition where excellence counts a great deal.
Unfortunately, many athletes cannot reach that level of optimum performance because of what Carr states are performance "problems", namely performance anxiety due to lack of concentration and a focus on outcome only goals.
As credence to the academic advancements in the field of sports psychology, Carr was able to actually quantify performance anxiety. Drawing a bell curve he explained X axis to be what players call "butterflies" and the Y axis to be "performance". At a certain point during the physical performance the athlete has an optimum amount of "butterflies" to perform well yet not enough to overcome him and prevent performance. This is what athletes refer to as "The Zone".
To lighten the heavily academic nature of his explanation of sport's psychology and much to the chagrin of his former classmates, Carr showed pictures of college friends from their days as Wabash students. He flashed a picture of Pete Metzelaars '82, the former NFL player and current Indianapolis Colts assistant coach, when he discussed "Characteristics of Elite Performers." The classmates seemed to all take it in good fun.
- Patrick McAlister '10
Reminiscences

Professor Emeriti Vic Powell, Aus Brooks, and Ed McLean told stories and listened and laughed as alumni Bob Allen, Jack Robertson, Clarence Mann, and others told theirs. Click here for a photo album.
- Steve Charles, Public Affairs
Jake Jaquiss: Surgeon Can't Raise Expectations
Even one of the nation's top pediatric cardiac surgeons has to know when the odds could be against him. Dr. Robert "Jake" Jaquiss '82 told a Big Bash colloquium Friday that children come to him already diagnosed with life-threatening heart problems.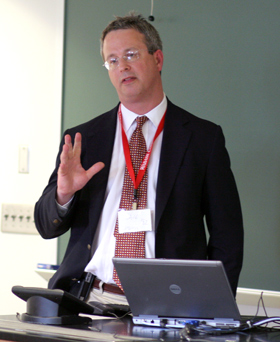 "I have to know when the risks are highest so I don't create unrealistic expectations," he said. Jaquiss is chief of pediatric and congenital cardiac surgery at the University of Arkansas for Medical Sciences and Arkansas Children's Hospital at Little Rock.
He has had a distinguished career working as an assistant professor at Jackson Memorial Hospital at Miami, Fla, Director of Pediatric Cardiothoracic Surgery at Joe DiMaggio Children's Hospital at Hollywood, Fla., and as a pediatric cardiothoracic surgeon at Children's Hospital of Wisconsin.
After graduating cumma sum laude from Wabash, the Harmony, In., native studied at Vanderbilt Medical School.
He explained the work of pediatric surgeons and the history of the discipline to the alums gathered for his session. He shared statistics at his hospital in Arkansas showing 5-15 babies per 1,000 live births have heart problems. The startling statistics are that 61 percent of those having surgery are under 1 year old while often weighing just a few pounds or less.
But the doctor also used a little humor throughout the presentation, making fun of his own math skills while a Wabash student and poking a little fun at various descriptions of pediatric cardiac surgeons.
His specialty requires an average of nine years training after medical school. And in a 2005 survey, most such surgeons perform slightly more than 200 surgeries a year. He said there are approximately 125 doctors doing primarily pediatric cardiac surgery and no adults.
An audience member questioned how he sleeps at night with such tough odds.
"There are no good answers to that," Jaquiss said. "For me to sleep at night, I have to know I did the very best job I can do. I have to know that I've studied and prepared and learned the very best that I could."
- Howard W. Hewitt, Public Affairs