Awards Chapel Caps Year of Academic Achievement
by Howard W. Hewitt • April 27, 2007

Share:
The end of the school year is marked with farewells and tradition. Among the oldest and most anticipated tradition is Awards Chapel.
Students and faculty are honored for achievement, involvement, and contributions to the College. Awards Chapel was held April 26.
One of the top honors each year is awarding of the George Lewes Mackintosh Fellows. The winners were: Brandko Alvanja, Crown Point, In., Adam Hawkins, Indianapolis, Steven D. Rhodes, West Lafayette, In., Trent Rogers, Frankfort, In., Clarence I. Shelton III, Seymour, In., Gregory J. Strodtman, Indianapolis.
A senior and junior are honored each year with separate awards. Brett Gann Jr., Bartonville, Il., was named Senior Award of Merit. The award is presented by the Student Senate in conjunction with the National Association of Wabash men. The recipient must demonstrate achievement in scholarship, service, and extra curricular activities.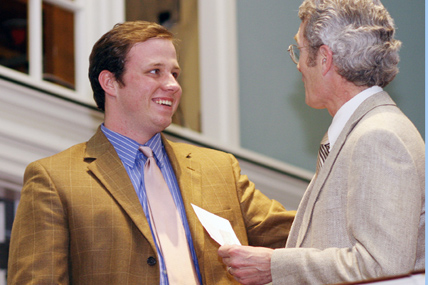 The Lewis Salter memorial Award was presented to junior Jesse J. James, Sullivan, In.. The Award is presented to a junior who best exemplifies scholarship, character, leadership, and service Dr. Salter embodied as a Wabash faculty member and as the College's 12th president.
The Hurt All-Around Freshman Award was given to Brock Graham, Alto, Mi.. The award is presented by the Dean of Students from nominations submitted by all living units.
Two students were honored with the Community Service Award for Outstanding work. Tony Caldwell, Washington, Ia., and Jason Siegel, Fort Wayne, In., were honored. The award is presented for community service to Wabash, Crawfordsville, and Montgomery County.
The Phi Beta Kappa Prize, with a cash award, was presented to Ross Dillard, Hendersonville, Tenn., and Brett Gann. The award is given by the Wabash chapter of Phi Beta Kappa to that undergraduate who is judged to have produced the most original and meritorious piece of work, whether artistic and analytical.
The Malcolm X Institute Merit Award was given to Keith Clayton II, Colorado Springs, Co. The Indianapolis alumni Student Athlete Award was shared by Nathan Bates, Ossian, In., and Patrick Millikan, Newburgh, In. The Pete Vaughn Outstanding athlete award was presented to wrestler Keith Garrard, New Castle, In., and middle-distance runner Geoff Lambert, Chesterton, In.
Two faculty members are honored each year. The McLain-McTurnan-Arnold Excellence in Teaching award went to History Professor Stephen Morillo. Morillo's award was drawn much like his own weekly cartoons for The Bachelor. The McLain-McTurnan-Arnold Research Scholar honor was presented to Associate Professor of Chemistry Ann Taylor
In photo: Above, James receives Salter Award from Dean Gary Phillips.