Seven Russian College Students Visiting Wabash
by Howard W. Hewitt • March 25, 2007

Share:
Seven Russian college students are visiting campus to learn more about American education and culture. The seven are students of visiting language intern Veronica Borshcheva.
The students arrived late Wednesday but made their first big appearance Saturday night during the annual International Students' Dinner. The seven helped prepare a portion of the meal and sang two traditional Russian folk songs. (See a photo album of Saturday's events here.)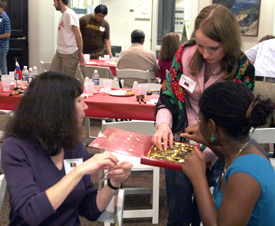 The students are from Saratov State Socio-Economic University south of Moscow, in the city of Saratov. They traveled at their own expense to spend two weeks at Wabash.
Borshcheva was motivated to organize the trip to help the Wabash students studying Russian and her students back home not only learn the culture, but to also improve their English skills.
"This is the way to learn the language," she said. "You have to visit the country. I'm so happy for my (Russian) students. They like the campus and have enjoyed the guys they've met."
The students are staying in fraternity houses and attending classes. They will also be making presentations beginning Mar. 26. The presentations will include information on Russia, Moscow, St. Petersburg, Saratov, wedding traditions, religion and churches, higher education, art, young people and pop culture.
The presentations are as follows:
Saratov-Crawfordsville: Building Bridges Between Cultures
4:15 p.m., Mar. 26, Detchon 209
Student Life: We do know how to have fun
11:10 a.m., Mar. 27, Detchon 209
Russian Wedding Traditions: What you should know if you want to marry a Russian Girl
12:15 p.m., Mar. 28, Detchon 209
The Land of Tsars, Bears, and Vodka
4:15 p.m., mar. 29, Detchon 205
The students are: Vadim Dulmaev, 19, Elena Dyakina, 21, Ksenia Pelevina, 20, Anna Shabalina, 22, Zhanna Terentyeva, 20, Erlen Troshin, 21, and Elena Vautina, 22.
In Photos: Julia Rosenberg and Amina McIntyre take a look at the selection of Russian chocolates the students shared during Saturday's dinner.