New Annual Giving Option Meets Donors' Needs
• March 2, 2007

Share:
Because so many donors to the Wabash Annual Fund asked for it, the College now offers a quick and secure method to support Wabash students on an annual basis. Using Visa, MasterCard, or Discover Card donors now can establish a recurring tax-deductible gift.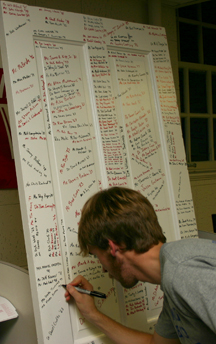 Donors can establish their own giving plan by indicating how much they want to contribute and how often (monthly, quarterly, semi-annually, or annually) they want the gift charged to their credit card. Using this option donors are able to make their gifts effortlessly on their own schedule, while eliminating mail and phone solicitations.
"This new feature allows alumni and friends to establish their own giving plan on their own terms," said Joe Klen '97, director of the Annual Fund. "It really helps those who often forget when they made their last gift or those who want to increase their annual gift, but find it difficult to make a larger gift in one payment."
Klen says many donors are choosing this option because payments can be spread over 12 months. He says other "donors establish a giving plan that allows their annual gift to be charged on the same date each year, so if an alumnus gives every December, they could establish a schedule where their card is charged for the same amount each December."
There are still other benefits to the recurring credit card option. It eliminates direct mail and student phone solicitations, which means savings for the college in printing and postage costs. Donors will still receive a receipt for each transaction charged to their card.
"While these gifts have a direct impact on Wabash students, donors also benefit if they have a card that accumulates rewards, points, or miles," added Klen.
Here are a few examples of how gifts can add up by establishing a recurring credit card gift:
If donors give this amount each month, the total contribution based on 12 payments is would be:
A monthly gift of $8.34 equals a $100 annual contribution
A monthly gift of $20.84 equals a $250 annual contribution
A monthly gift of $41.67 equals a $500 annual contribution
A monthly gift of $83.34 equals a $1,000 annual contribution
A monthly gift of $152.67 equals a $1,832 annual contribution
By clicking here and selecting Option D, donors can establish a recurring credit card gift and have a direct impact on Wabash students. Donors with questions about this giving option may contact the office of the Annual Fund or call 877-743-4545.
In the photo: A student phonathon caller writes the name of a donor on a door, symbolizing how gifts to the Annual Fund open doors of opportunities for Wabash students.