Alums Share Impact Wabash College had on Their Lives
by Howard Hewitt • February 18, 2007

Share:
Approximately 60 African-American and Latino high school seniors participated in a weekend visitation program that ends Monday with a look at the liberal arts, academic interests, and financial aid.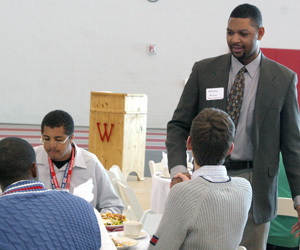 Most of the young men arrived on campus Saturday afternoon for registration and an evening of fun and entertainment. Sunday's program included several presentations highlighted by an alumni panel.
Daryl Johnson '82 and a member of the Wabash College Board of Trustees, chaired the panel and shared experiences along with Alonzo Weems '92, Anthony Mimms' '95, Adan Garcia '04, Bert Salinas '97, and Cleo Washington'85.
Two common themes emerged from most of the graduates comments. Family and responsibility were often cited as two of the three things each shared about Wabash's impact on their lives. Several touched upon the freedoms at Wabash and how each young man learns responsibility on his own and in his own way.
All talked about the friendships that become an expanded part of their family through the shared experience.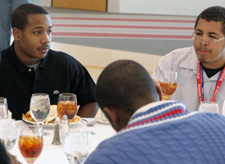 "It's not just your fraternity brothers or whoever," Mimms explained. "All of Wabash College will be your family."
Several of the men talked about getting together with College fraternity brothers while on campus for the weekend program and how that extended brotherhood never ends.
The young men did sit up in their seats during introductions. Nodding heads and looks of admiration were evident while Johnson talked of his running his own business, Weems legal position with Lilly, Mimms' medical practice, Garcia's banking career, Washington's time as a state senator, and Salinas' law work in Washington D.C.
"People here want to help you succeed," Garcia told the students. "They want to help you find out who you are."
Mimms talked about growing up in a sheltered home with eight siblings. He told the young men he grew up in a strict, religious home and it took him awhile to adapt to his freedom at Wabash.
"You get to classes here and there is no extra credit," he said. "If you're late with a paper it's an 'F.' If you're lucky a professor might let you make it up for a 'C.' It's up to you."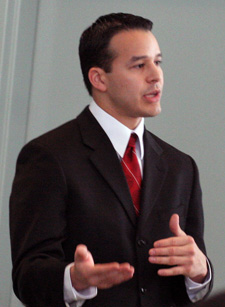 Salinas talked about the diversity Wabash offers and "it's not just the color of your skin." He said a big part of the diversity is living and going to school with students of different social-economic status, religion, and people from different parts of the country.
Coming back to help recruit young men is a reward in itself, Garcia said.
"It's really a wonderful opportunity to not only give back but have a better understanding of what I learned at Wabash and of the man I wanted to become while at Wabash." he said. "These guys are where I was several years ago and I know when I was there it took a little bit of guidance and little experience to help me have an understanding of what Wabash had to offer."
Top right: Mimms gets acquainted with some prospects over lunch. Center: Earl Rooks '08 talks with students. Lower right, Garcia during his remarks.