MXIBS Documentary to Premier Saturday
by Sam King, Journal Review • February 16, 2007

Share: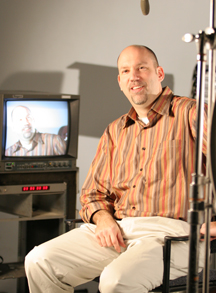 The phrase "black power" was coined by Stokely Carmichael 40 years ago this April 19, but the power blacks had in 1967was still relatively minuscule.
That same year, a group of seven black Wabash College students organized the first "African-American" student organization at the Crawfordsville institution in order to protect the interests of black students at the college.
The organization, named The Afro House, later became known as Malcolm X Institute after the black rights activist who was assassinated in 1965. The Malcolm X Institute of Black Studies is now the focus of a documentary film directed by 1987 Wabash College and 1983 Fountain Central High School graduate Jo Throckmorton.
With an idea lingering for 10 years, Throckmorton finally began work on the documentary study with support from former MXIBS director Horace Turner and former Wabash College President Andy Ford. Two years and numerous interviews later, the film "A Legacy of Hope" is set to debut at Wabash's Salter Concert Hall 12:30 p.m. Saturday. The event is free and open to the public.
"When it (MXIBS) came into existence, it had a huge impact on helping the college understand its mission statement," the Bloomington resident said. "This is really a great microcosm of what the college is about. One primary issue for student affairs at Wabash was that they tried to help us live humanely."
Throckmorton's statement proves true. According to the Malcolm X Institute's Web site, most of the campus was receptive to an organization of cultural identity. That being said, faculty members Finley Campbell and Peter Frederick, along with a group of students founded the institute. Despite efforts to have the name changed, the students rejected the proposition because of Malcolm X's symbolical activism in black rights.
The institute finally came into being in 1970, but Throckmorton says the story started much earlier than that. When pinpointing a time frame to begin the film, the president of Blue Ace Media considered going back as far as the founding of Wabash College in 1832. The film could have easily been 10 hours long, Throckmorton said.
"I went in knowing nothing of what I was trying to find out," Throckmorton said. "All I knew was I wanted to talk to people and I wanted them to start talking. There probably wasn't an interview that went by where I didn't sit back and say, 'I did not know that.'"
Ford, who was president of Wabash during filming, allowed the documentary to capture significant oral history of footage of the struggles, challenges and obstacles in relation to a larger community. Most of the film was shot in the Malcolm X Institute or in studio with a tight budget. The actual cost to make the film was about $175,000. Though Throckmorton didn't take a lot of payment for his work on the film, he said it far exceeded any expectations he might have had for it.
"If you love to hear a good story that will restore your faith and your hope in humanity — at times it's going to make people cry and at other times, it's going to make people laugh," Throckmorton said. "When you leave, you're going to be filled with hope and be glad you saw it."
Institute Director Tim Lake is glad to see the college have an important part of the school's history highlighted.
"It's a good introduction into the college's history and ongoing into present terms of how it invited and received African-American students," Lake said. "I think (the film) is an excellent professional production done by an alum that has an attempt to be as historically accurate as possible."
"A Legacy of Hope" is the third film release Throckmorton has produced or directed. He hopes his world debut of the film at Wabash will leave a lasting impact on those who view it.
"When you watch this film and you allow yourself to listen to the story, it's full of emotion and power," Throckmorton said. "This is perhaps the most important film you'll ever see this year."