Hamilton '89, Benedict '98 Discuss Healthcare Economics
by Howard W. Hewitt • February 2, 2007

Share:
Politicians, healthcare providers, and anyone looking at a doctor's bill may often debate health care's economics.
The answers to the myriad of financial challenges facing the healthcare industry aren't any easier than a tough diagnosis.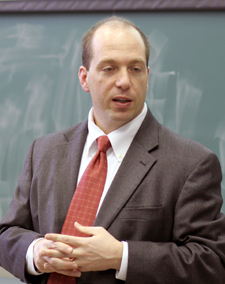 Terry Hamilton '89, Chief Financial Officer, and Scott Benedict '98, Director of Outpatient Program Development, for St. Vincent's Hospital in Indianapolis offered insight Feb. 2 to Wabash students, faculty and staff in a noontime presentation.
The two quickly laid out the complexity of health care issues which cover: costs, access to the system, doctor and nurse shortages, an aging population, and medical liability insurance as just a few of the challenges and financial strains on healthcare.
Benedict explained how hospitals receive widely different reimbursement from commercial private insurance, managed programs, Medicare, Medicaid and from patients with no insurance trying to pay their own bills.
At St. Vincent's, on Indianapolis' north side the primary care units has 70,000 visits a year. But 89 percent of those visits are from people with no commercial insurance or Medicaid. As a not-for-profit hospital, St. Vincent operates with a yearly $8 million budget loss.
Hamilton and Benedict explained the options to minimize loss include shifting costs to those who can pay, monitoring cost control, work with care management, and pursue public policy change.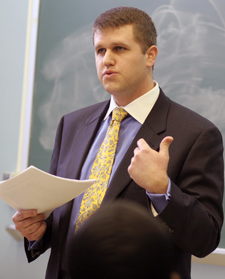 "Everyone can agree we'd like to cover more people," Hamilton said, 'but no one can agree on who's going to pay."
Near the end of their prepared remarks both graduates hammered on the one area that health care has done a poor job, in their opinion. "I think preventative care is something we've failed to provide in this country," Hamilton said.
He noted that smoking and obesity rates in Indiana are among the highest in the nation, yet both are preventable.
"I believe we need to drive resources into preventative care," Benedict agreed.
The two were peppered with questions covering a range of topics including an often-discussed national health care initiative frequently proposed by politicians. "It's like trading one set of problems for another," Hamilton said.
Both men were economics' majors at Wabash and both graduated Phi Beta Kappa.
In photos: Upper left, Hamilton. Lower right, Benedict.