Wabash, City Partner to Sponsor Talk on Historic Preservation
by Kayla Gentry • January 29, 2007

Share:
Many would agree that Crawfordsville's history rests downtown.
Crawfordsville Main Street believes in that so much they are bringing in an internationally known leader of historic preservation, Donovan Rypkema, to share his thoughts on the city with the public.
Main Street, partnered with Wabash College, to welcome Rypkema, principal of PlaceEconomics — a Washington, D.C. based real estate and economic development firm, at 7 p.m. Jan. 31. He will lecture on Downtown Revitalization as Economic Development at Baxter Hall, Room 101, after spending a day in Crawfordsville.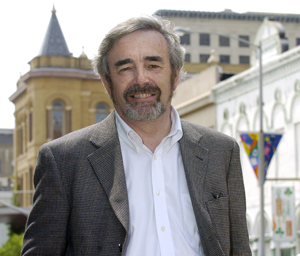 Rypkema was discovered through members of the Main Street board attending State and National Main Street meetings, Program Manager of Crawfordsville Main Street Debbie Leech said.
"We felt he had an excellent message to deliver and that our community would benefit from an outsider's perspective on the importance of downtown revitalization as part of a community's overall economic development plan," she added.
Rypkema's work, according to his biography, focuses on the usage of historic structures and reinvigoration of historic buildings, downtown and neighborhood commercial districts. He received his Master's degree from Columbia University and his list of accomplishments and work is lengthy.
He will spend a day observing and meeting people involved with downtown before his lecture. Although Leech says she does not know the particular points he will touch on, she says she hopes he will tie in his visit with his lecture.
Main Street is enthusiastic about the opportunity to bring such a well-known individual to Crawfordsville.
The group's plan, for some time now, is to have an organizational meeting for the community on the significant aspects of downtown revitalization.
"(We) finally decided that Rypkema would be a good choice to show the connection between downtown and economic development," Leech said.
Wabash fits into the puzzle because of its location, adjacent to downtown. A strong tie between the college and the city is needed, Leech said.
"Both of our futures are intertwined by the importance of having such an excellent, well-known college adjacent to our downtown, and for the college it is vitally important that perspective students and faculty see a thriving downtown when they come to visit and make their decisions on where to attend college, or where to take a job on staff," Leech said.
Leech added that Wabash College President Dr. Patrick White hopes Rypkema will have examples from other college communities where he has consulted, which resulted in positive connections between "town and gown."
With a commitment to downtown revitalization, Crawfordsville Main Street works to organize events that bring the significance of a rich and lively downtown to the community's attention. The importance of downtown revitalization is consequential for the community.
It's not just flowers and new paint, Debbie Leech, Program Manager for Crawfordsville Main Street said.
"I think that Mr. Rypkema's lecture, considering his wealth of information and experience in this field, will be eye-opening to many people who feel that downtown revitalization is simply flowers and new paint.
"We need to continue the positive steps that are happening in our downtown and have knowledge of the depth of the significance of downtown revitalization to the future of our entire community," she said.