Documentary Film on MXIBS to Debut on Campus
• February 2, 2007

Share:
Why does the Malcolm X Institute of Black Studies exist on the campus of a small, liberal arts college in Crawfordsville, Ind. One graduate has used his film-making skills to address that question.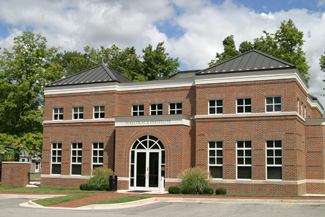 Jo Throckmorton '87, president of Blue Ace Media in Bloomington, has directed a documentary film titled "A Legacy of Hope." The film will have its world premiere 12:30 p.m., February 17 on the Wabash College campus as part of MXI Alumni Weekend activities.
Other public screenings will take place later in the month of February.
Throckmorton will introduce the film and be available for questions and answers following the film's showing.
Throckmorton began filming in the spring of 2005 after gaining the support of Horace Turner, then the MXIBS director, and then college president Andy Ford. The film is a story of the creation, early challenges and continuing relevance of a cultural center devoted to black studies on a campus composed primarily of white students.
The film took over one year to complete and includes interviews with Turner, Ford, Daryl Johnson '82, Olympic coach Rob Johnson, Eugene Anderson '83, current director Tim Lake, and founding member Keith Nelson '71. The film is narrated by Keith Veal '92.
"A Legacy of Hope" is the third film release either produced or directed by Throckmorton. He most recently won a CINE Golden Eagle for a film on the 150th anniversary of the Greater Indianapolis YMCA.
Blue Ace Media was founded in Bloomington in 2006 and specializes in creating custom advertising, marketing, training and corporate media materials for clients around the country. The company serves the manufacturing, medical, aeronautics and service industries. Throckmorton has also produced several award-winning videos for Wabash College.