Emily Post's Great-Grandson to Present 'Manners and Man
by Howard W. Hewitt • January 12, 2007

Share:
Wabash College students' actions and conversations are governed by The Gentleman's Rule. But what does it mean to be a gentleman? A nationally-acclaimed expert will offer his advice on "Manners and the Man" at 8 p.m., Thursday.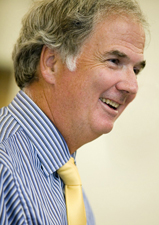 Peter Post, the great-grandson of the etiquette icon Emily Post, will appear at Wabash in Salter Hall to discuss manners and business etiquette. Post is the director of the Emily Post Institute and author of three etiquette books. His lecture will be free and open to the public.
The Emily Post Institute, created by Emily in 1946 and run today by third generation family members, serves as a "civility barometer" for American society and continues Emily's work. That work has grown to address the societal concerns of the 21st century including business etiquette, raising polite children and civility in America.
Peter Post has authored The Boston Sunday Globe's weekly question and answer business etiquette advice column, "Etiquette at Work." The column is distributed by the New York Times Syndicate.
One of Emily Post's four great-grandchildren, Post also owns a marketing and public relations agency. He has more than 25 years of experience in marketing, communications, design and education. Peter holds a master's degree in fine art from Pratt Institute and a Bachelor of Arts degree from the University of Pennsylvania.

The "Post" family name has been associated nationally and internationally with manners and etiquette since Emily Post's 1922 book, "Etiquette" topped best-seller lists. Her name became so synonymous with manners and etiquette that the phrase "according to Emily Post" entered our language as the last word on the subject of social conduct.
Emily Post was born in 1873 into a family of privilege. She began her writing career writing newspaper and magazine articles on architecture and interior design. She also wrote what were called light novels before turning out her landmark book, "Etiquette." Post died in 1960.
Students are encouraged to RSVP via Wabash Works.