Monon Bell DVDs Now on Sale
• December 13, 2006

Share: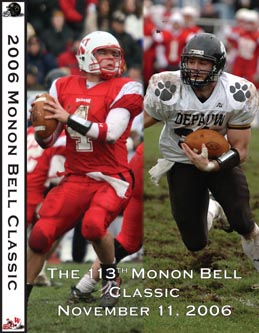 A commemorative DVD of the 2006 Monon Bell Classic, a 23-20 Wabash victory over DePauw, is now available at the Wabash College Bookstore. The disc is also available through the Bookstore's online site.
The DVD, produced by DePauw's Ken Owen, features the entire game, which was broadcast by the national high definition television network, HDNet. The commemorative disc also includes 19 Monon Memories, the short highlight films of past Monon Bell thrillers. The Monon Memories date to the 1930s and include clips from eight decades of the rivalry.
A photo gallery with action photographs by Wabash's Jim Amidon and DePauw's Matt Bowen is also featured on the disc.
Owen and Amidon have collaborated on the DVD project in each of the last six years, working with Sony Disc Manufacturing in Terre Haute.
"We're very pleased with the final edit of this year's Bell Game," said Owen, who prepared the HDNet footage for DVD production. "Players, their parents, alumni and people who are simply fans of great college football rivalries can see the game in a disc that is enhanced for widescreen television sets and is as close as you can get to the action without standing on the sidelines."
Discs will be available in the Bookstore beginning Monday at a cost of $14.95. Orders via the Wabash Bookstore's online site will be processed as quickly as possible; Indiana residents who place orders before Wednesday, December 20, should have their DVDs before Christmas. All orders will ship UPS Ground.
"Alumni, students, and players have told me they love having a permanent record of the best rivalry in all of college sports," said Amidon, who created the artwork for the cover and the disc itself. "Every down, every hard hit, and every big catch of the 2006 Bell game is preserved forever on this disc."
The 2006 Monon Bell Classic marked the 75th time Wabash and DePauw have competed with the Monon Bell as the victory prize. The Little Giants rode the 303-yard passing performance of Dustin Huff, along with two defensive interceptions and a safety to win the game 23-20 before a record crowd of 11,600 on November 11.