Psychology Department Awarded $100,000 Grant
by Howard W. Hewitt • December 8, 2006

Share:
A $100,000 Sidney Frohman Foundation grant will afford Wabash students expanded opportunities for psychology research. The equipment purchased will give students a chance to do the type of research seldom available at smaller colleges, Psychology Department Chair Brenda Bankart said.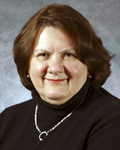 "Psychology is undergoing a major paradigm shift with increased emphasis on understanding the relationship between brain and behavior," Bankart said. "Such research requires state-of-the-art laboratory facilities and equipment. This grant will supplement the considerable support Wabash already has provided the department to redesign and equip our physiological laboratory under the direction of Dr. Neil Schmitzer-Torbert."
The Frohman Foundation is based in Sandusky, Ohio, and was formed in 1964 by Sidney Frohman just before his death and after a long career in the paper industry. Frohman was particularly interested in helping provide the tools needed in higher education, as well as providing funds to charitable organizations. Dan Frohman '63 is a nephew of Sidney Frohman and is a member of the Foundation's Board of Directors.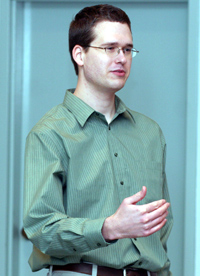 Schmitzer-Torbert, in his first year at Wabash, is excited the grant will help purchase a neural recording system to monitor brain wave activities in a laboratory setting. He frames one of the most critical questions in psychology today as understanding the brain's activity and how it leads to our thoughts, emotions, and behavior.
"In brain research, this type of technique is becoming increasingly commonplace, but relatively few schools of Wabash's size have access to such equipment for student research," Schmitzer-Torbert said. "Over the next few years, some of the major questions we will be tackling will be how addictive drugs produce changes in learning and how aging influences learning and memory."
The grant will open up research opportunities and will help students prepare for life after Wabash.
"The department expects these new learning opportunities will not only enhance the undergraduate experience but also increase the competitiveness of students wishing to continue their education in graduate school," Bankart said.
The award comes after a cross-departmental effort, said Dean of Advancement Joe Emmick. "This is an example of higher education collaboration at its best," Emmick said. "The advancement staff, the psychology department, and the administration teamed up to match a donor's interest in the College with a critical academic programming need.
"The result is a gift that will make possible a new era in psychology and provide Wabash's students with a hands on laboratory and research experience rarely available to undergraduates at liberal arts colleges."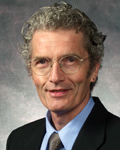 Dean of the College Gary Phillips said the grant comes at an important time for the Psychology Department. "As a result of its ongoing self-assessment, the department is reconfiguring the role of research in its curriculum. Grant funds will be used to create new laboratory space, supply needed instrumentation for present and future faculty use, and support innovative faculty/student collaborative research that will have a direct bearing upon faculty teaching and student learning."
Phillips, who helped write the grant, said the benefit will extend beyond Wabash psychology majors.
"This will benefit students who go on for medical school and graduate studies in particular," he said. "But it will benefit every Wabash student who takes a psychology course simply because it is a part of the liberal arts experience."