Mentors Help Local Students Start Thinking About College
by Wade Coggeshall • December 1, 2006

Share:
It's never too early to start thinking about college. A group of 10 first-graders from Hoover Elementary School is learning that. They've been paired with 10 Wabash College students to participate in that school's chapter of College Mentors for Kids.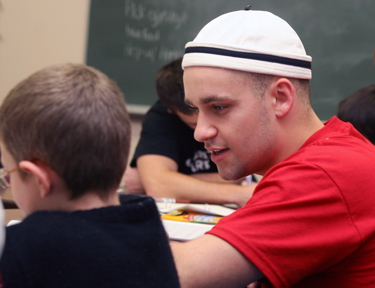 The concept is matching youngsters with college students of the same sex. Maybe these grade-schoolers lack healthy role models in their lives or haven't really been exposed to the idea of higher education. Through structured activities that occur two hours each week, they get a peek at life on campus and learn what potential the future holds. The hope is that it'll inspire them to strive for a good education and set goals early. The student-mentor relationship lasts four years, through fourth grade.
"Really what we're looking for is to serve a child who has not been exposed to higher education in his or her home life," said Laura Feldman, associate program director of College Mentors for Kids. "Our kids have the potential to be first-generation college students."
The program started in 1995 at Indiana University. Through 11 years it's grown to 20 chapters, with one established at Illinois State University by a Purdue University transfer.

Chris Serak, a junior education major at Wabash, started his school's chapter after learning about the program through his brother's girlfriend, who's president of Ball State University's branch.
"I've been working with kids for a long time," Serak said. "I'm an advocate for higher education. So I thought it would be a good opportunity to expose kids in Montgomery County who aren't typically exposed to higher education, give them a chance to see what college is like. Hopefully I can compel some of them to attend college."
Serak started working with Feldman and other program directors in January. He did a call-out for volunteers at the beginning of the school year and got a strong response.
"I had over 30 applications, which is good for the first time," he said. "I had a lot of professors contact me about helping out."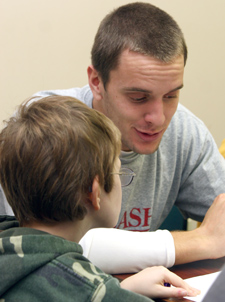 So far the chapter, which meets in a group every Thursday, has had activities like an African studies professor talk about Africa and giving the children an opportunity to ring the Monon Bell. Serak can tell a change in them from the first gathering to now.
"They were really reserved at first and kind of shy with their buddies," he said. "But they've definitely opened up a lot. When we have discussions about what is college, they can answer more quickly and appropriately. They know more."
Hoover Principal Kim Nixon is so far impressed with College Mentors for Kids.
"It's a wonderful program, and we feel very lucky to be able to participate with Wabash College," she said. "So far the kids seem to really enjoy it."
Nixon would like to see the Wabash chapter expand by including 10 new students every year until they have 40 students after four years. She'd also like to offer the same kind of mentoring to female students at Hoover.
"For the kids to just have the experience of sharing a couple hours with the Wabash students (is beneficial)," Nixon said. "They're just great guys. They want to give their time and be with the kids. That's really important."
The first children to ever participate in College Mentors for Kids are now in high school, so it's still too early to tell how effective it is. But Feldman has other indicators that show it's working.
"We do know from our annual evaluation of participants that kids in our program have better behavior in school, they have better relationships with their peers, have improved attendance and grades," she said. "That's really unique because we're not tutoring, but we're helping kids understand this is why I'm in school, this is what I want to do, and connect their current school with their future goals."
It's benefiting the mentors too.
"It's helped me as a leader, to be able to deal with my peers in a leadership role," Serak said.
Wabash College Mentors for Kids always need guest speakers to talk about different occupations and other interests. Those willing to volunteer their time can e-mail Serak at serakc@wabash.edu.


Coggeshall is a reporter for the Crawfordsville Journal Review.
In Photos: Top right, Dan Shirey '07 talks with his student. Center left, Serak talking with students before the day's group activities. Lower left, Jon Funston '09 talks with his student about the letter they're writing.