Hanover's Three-Point Barrage Sinks Wabash
by Brent Harris • November 21, 2006

Share: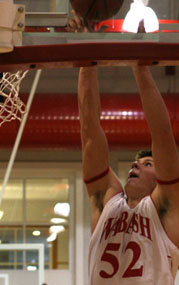 If you knew going into Tuesday night's basketball between Wabash and Hanover that Andrew Zimmer and Gary Simkus would record their first double-doubles of the season, you would think the Little Giants would take an easy victory.
Instead it was the long-range shooting of Hanover's Clint Parker and 23 turnovers by the Little Giants that led to a 90-85 loss for Wabash at Chadwick Court.
Click here to view photos from Tuesday night's game.
Zimmer grabbed a career-best 17 rebounds and scored 20 points, while Simkus had 10 boards and 14 points. Freshman Chase Haltom led the Little Giants with a career-best 21 points.
But it couldn't overcome Parker's shooting from the field. The junior was 11-for-23 from the field, but all 11 baskets came from behind the three-point arc. Parker was 11-of-21 from three-point range and 5-for-5 from the free throw line.
Wabash not only struggled keeping Parker from getting good looks at the basket, but also found the going tough against Hanover's full court press. The Little Giants' 23 turnovers led to 28 points, while Wabash would manage just four points on four Panther mistakes.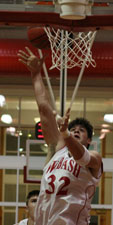 The Little Giants owned an eight-point lead five minutes into the contest, but saw the advantage cut to three at the halftime break. Hanover continued to bomb away from long distance, connecting on a total of 16 three's out of 43 attempts. The Panthers were 29-of-77 overall for the game.

Wabash shot well, pounding the ball inside again and again for 45 points in the paint. The Little Giants were 30-of-56 from the field, led by Zimmer with a 7-for-10 effort.

Aaron Brock had 14 points and Brian Maloney added 11 to join Haltom, Simkus, and Zimmer in double-figure scoring. Marc O'Leary had 14 points and Jake Inman tossed in 12 for the Panthers.

Wabash (1-2) will attempt to regroup after the Thanksgiving break. The Little Giants travel to Greencastle, Indiana to play DePauw University next Tuesday at 7:30 p.m.

Photos - (top right) Andrew Zimmer recorded his first double-double of the season, scoring 20 points and grabbing a career-best 17 rebounds.

(bottom left) Freshman Aaron Brock had career-highs in points (14) and rebounds (7) in the Wabash loss.




Results: Hanover 90, Wabash 85 Game Stats