At Wabash, He is a Student; at Home, a Rock Star
by Wade Coggeshall • November 21, 2006

Share: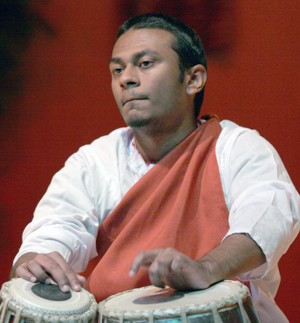 Syud Momtaz Ahmed leads a double life. As a senior at Wabash College, he's a chemistry major helping a handful of other students and faculty conduct cutting-edge research into the use of silicon chips to dispense medicine and monitor health within the human body.
In his native Bangladesh, he's a rock star. Literally.
Ahmed, or Taz as he's known on campus, is the percussionist for the fusionist band Ajob, which means "weird." The group released its debut CD in September. The recording has spent several weeks atop the music charts in Bangladesh, drawing a large audience with its blend of native folk music and Western rhythms. Ajob currently has a music video that can be viewed on YouTube.
"It's something we all wanted to happen, and we were hoping it would happen," Taz says about the successful debut. "The fact it's well-received is appreciated."
What makes it even more satisfying is the fact Ajob took its time - spending three years recording the album - and making it on their terms.
"We didn't want to make a commercial album," Taz says. "Like you have artists in the United States who adjust their music so that it would be a top-seller. They would compromise and make music which is sure to be well-accepted and the in-thing for that time. We agreed we'd make our sound and present it to the public. We had so much fun doing it."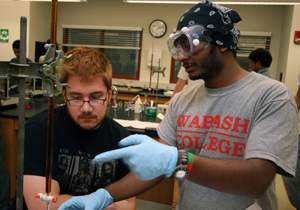 No idea was feared. Ajob, which also includes a singer, two guitarists, a bassist and a drummer, used pots and pans for additional cadence. They took some of the guitar tracks and played them backward while simultaneously playing them forward.
"If it sounded good to us, we thought it was good enough," Taz says. "That's the great thing about the album. We made it with a lot of love and care. We've nurtured it to the extent that we can truly say it's our product, to our liking. We left no room to compromise. We didn't do stuff to try to make people happy."
If there's any downside, it's that most of Ajob's members are attending college in different parts of the world. One's in Singapore, another in Australia. Taz was the first to leave Bangladesh. He has two brothers who've graduated from Wabash.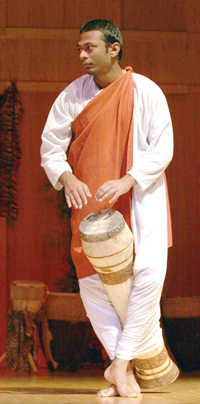 Taz's divergent lifestyles essentially began on the same day. Ajob signed its professional contract with Ektaar, the youngest band in that label's history to do so. Later that day Taz took his advanced-level exams for college eligibility and killed it.
"I was in such a good mood (that day)," he says.
Since then he's played for crowds numbering two to 800, comprised of people from every socioeconomic background.
"There have been days when I played away for almost three hours," Taz says. "What else can you ask for when you're 16-17 years old?"
Taz's music career, which started when he picked up the tabla in fourth grade, also includes the band Made in Bangladesh. That trio, which Taz joined when he was in high school, specializes in jazz remixes. Though they've never professionally released an album, Taz did post some of their music on the Internet. There were almost 6,000 downloads in a three-week span. Taz also knows it's been used in student fashion shows at Canada, Germany and Australia, and as background music in videos.
"I felt like I really accomplished something," Taz says of the response to Made in Bangladesh's music. "It was great."
He hopes to do more with that band one day, but like with Ajob, there currently are other priorities. Both of Taz's Made in Bangladesh bandmates are attending college stateside. Taz is aggressively applying for graduate school. He hopes to one day find a job in materials and solid state chemistry, move back home, work for a multinational company and travel extensively.
Music will fit somewhere in the equation.
"At the end of the day it doesn't really matter," Taz says. "I don't need money or any of that kind of stuff. I just want to play."
Even if music continues to be merely a pleasant distraction for Taz, he'll always cherish his role in it.
"The greatest part, especially in percussion, is no matter how the song is, its mood depends on how you perform it," he says. "You can make a song sound great, or you can make it sound horrible. Regardless, you have an opportunity to make that song sound as good as it can be. That's what I love about it. I can express the way I feel about a song through what I play."
Coggeshall is a reporter for the Crawfordsville Journal Review.
In photos: Ahmed in the classroom and performing with Wabash's world music group, Wamidan.