Basketball Team Hosts Rose-Hulman in Season Opener Friday
by Matt Wilson, Journal Review • November 16, 2006

Share: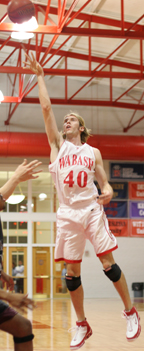 Wabash College's basketball team might not have any returning starters from last year's team that finished 16-10 and 10-6 in North Coast Athletic Conference action. But who starts games isn't coach Mac Petty's main concern. Instead, the veteran Little Giant coach is more worried about what group is on the floor during different situations in the game.
And while Wabash might not have any starters back from last season, the Little Giants still return plenty of players who gained valuable minutes last season. The new-look Little Giants take the court for their first regular-season game 8 p.m. Friday when they take on Rose-Hulman in the second game of the Little Giant Tipoff Classic.
Out of the Little Giants' starting five Friday, four of those players - senior center Ryan Stephens, junior forwards Gary Zimkus (pictured right) and Andrew Zimmer (pictured below left) and junior point guard Earl Rooks - averaged at least nine minutes of playing time last season.
Simkus and Zimmer both played in every game last season, averaging more than 20 minutes of time on the court. Stephens appeared in 22 games and averaged 11.2 minutes, while Rooks played in 17 games and averaged 9.6 minutes.
"We have some guys with game experience," said Petty, who enters his 30th season at the Little Giant helm. "Even though we don't have any starters coming back from last season, I feel like we do have some players that are ready to step up and become starters."
The newcomer to the Little Giant starting lineup will be freshman Chase Haltom, a graduate of Cloverdale High School. Haltom will start at the two-guard spot, but could easily be inserted into the No. 1 spot when Rooks needs a breather. Freshmen Aaron Brock and Rich Kavalauskas and sophomores Brian Maloney, Andy Root and Collin Smith all will give the Little Giants minutes off the bench. Petty said his team has interchangeable parts coming off the bench. Brock, a 6-foot, 5-inch forward from Bremen, can play either in the post or in the perimeter.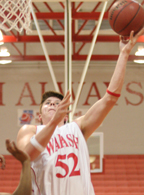 "We are just going to throw things out there and see what happens," Petty said. "We have certain things we want to do as a team and goals we want to accomplish for the game to be successful."
Stephens comes into the game as the lone senior on Wabash's roster. The 6-foot, 8-inch Zionsville native averaged 2.9 points and 3.4 rebounds per game last season. Stephens had a big double-double effort of 14 points and 11 rebounds in Wabash's win over Allegheny last season.
"I have seen great leadership and a positive work ethic from him," Petty said. "He really understands his role with this team. Even though he's the only senior, he knows he's not the marquee player on this team and has done a great job preparing the players for the season."
Four new teams will be in this year's season-opening tournament. Aurora University and IU-South Bend opening the tournament 6 p.m. at Chadwick Court. The consolation game is set for 1 p.m. Saturday, with the championship at 3 p.m. Assistant coach Jason Mulligan set up the schedule and found the teams for this year's tournament. In last year's tournament, Wabash opened with a 73-54 victory over Alma before falling to No. 1-ranked Illinois Wesleyan 79-67 in the championship.
"We have some good teams coming into the tournament this season," Petty said. "There is no real formula to finding teams for the tournament, we just go out and try and find the best available teams."
Following the weekend tournament, Wabash returns to action 7:30 p.m. Tuesday when it hosts Hanover.