Football Team Plays Its Way Into History
• November 3, 2006

Share:
The 75 men who boarded two charter buses bound for Granville, Ohio Friday are driving into Wabash College football history.
They will continue a Wabash tradition that began in the fall of 1884 when Wabash played and won the first intercollegiate football game in the state of Indiana.
They will play in the 1,000th football game in school history.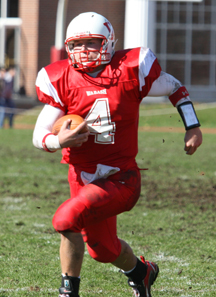 "I hope the players and coaches realize the historical significance of Saturday's game," said former sports information director Jim Amidon. "I hope they understand and value the moment, and that they long-remember playing in the 1,000th Wabash football game."
"It's special — a special opportunity," echoed Head Coach Chris Creighton.
Should the Little Giants defeat the feisty Big Red of Denison, they'll capture for Wabash its 575th all-time win, which ranks among the top 10 in NCAA Division III.
They will also continue the Wabash tradition of pursuing championships.
In 1886, Wabash beat Franklin and Hanover to win the state's first collegiate championship. Now, 120 years later, Wabash hopes to defeat Denison to capture at least a share of — and possibly an outright — North Coast Athletic Conference Championship, which would be the team's second straight title and third overall.
Wittenberg University, which hosts Allegheny College Saturday, needs a win to keep pace with Wabash. Should the Tigers defeat Allegheny, they have only a season ending game at Hiram standing in the way of a co-championship with the Little Giants. And because Wittenberg, which already has lost to Ohio Wesleyan, defeated Wabash head-to-head, the Tigers would earn the league's automatic berth in the NCAA tournament field.
Wabash enters the Denison match-up with a good head of steam. The team pounded Oberlin two weeks ago and last week dispatched Wooster in a hard-fought 20-10 home field victory.
Wabash's defense, which has played well in three straight games, will be tested by Denison running backs Fred Lee and Jon Berg, both of whom topped 200 yards in last week's win over Kenyon, Denison's second win of the year. Lee has rushed for 738 yards and eight touchdowns, while Berg has 554 yards and three scores to his credit.
Where Denison appears vulnerable is quarterback. Injuries have created a bit of a revolving door at the position, where three players have earned starts this year. All have struggled, completing just 46.6 percent of their passes and combining for 16 interceptions in 193 attempts.
Click here for more Denison statistics.
Defensively, the Big Red defense allows 24.5 points per game, but just 322 yards per game. They've also gotten good pressure on the quarterback and average almost three sacks per game.
Wabash is likely to do what it has done over the last few weeks: rely heavily on the arm and strong legs of quarterback Dustin Huff (pictured above right).
Huff is averaging more than 280 yards passing per game and is the team's second leading rusher. Twice this season he's led the team in rushing, scoring four times, and he's tossed 25 touchdown passes.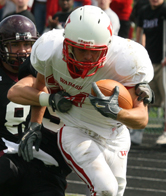 He'll no doubt keep his eyes on steady receiver Mike Russell (left), who leads the team with 42 catches and 11 touchdowns. Billy King, too, is likely to get plenty of touches after a strong second-half effort last week against Wooster. King leads the team in rushing with 422 yards and three touchdowns, and has 13 receptions.
Click here for more Wabash statistics.
Kickoff is slated for 1:00 p.m. The game will be broadcast on WNDY Radio beginning at 12:45 p.m. with the pre-game show. The broadcast can be heard over the internet, as well.