Jazz Band and Brass Ensemble to present Concert on Tuesday
by Karen Handley • November 1, 2006

Share: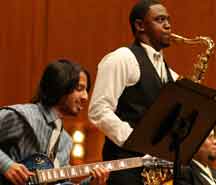 The Wabash College Brass Ensemble and Jazz Band will present a fall concert at 8 p.m. Tuesday, November 7, in Salter Concert Hall in the Fine Arts Center.
The Brass Ensemble, under the direction of Peter Hulen, Assistant Professor of Music at Wabash, will perform Fugue in G Minor by Johann Sebastian Bach; Courant by Samuel Scheidt; Irish Tune from County Derry by Percy Aldridge Grainger; Maxwell's Silver Hammer by John Lennon and Paul McCartney; and The Liberty Bell by John Philip Sousa.
The Jazz Band, under the direction of Steve Robinett, will perform One O'Clock Jump by Count Basie; Cute by Neal Hefti; Lil' Darlin' by Neal Hefti; Basie, Straight Ahead by Sammy Nestico; and April in Paris by Vernon Duke.
Admission to the concert is free. The public is cordially invited.