U.S./Africa Teleconference Explores Music's Healing Powers
by Steve Charles • October 30, 2006

Share: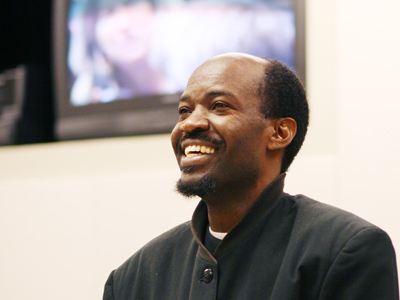 Two distant continents and two professions that rarely cross paths converged at the College's Trippet Hall last week as Wabash students joined medical students, doctors, and musicians from Kenya and Florida to discuss music and its power as a catalyst in healing.
During an hour-long videoconference linking Wabash with doctors from Mater Hospital in Nairobi, Kenya and the University of Florida, Visiting Professor of Music David Akombo led a discussion exploring "the role of the arts in health care today and how we might integrate the arts into health care in the 21st century."
Professor Akombo's book, Music and Healing Across Cultures was the springboard for the discussion. Akombo spent three years researching the musical rituals of the Taita people of his native Kenya and the Balinese people of Indonesia.
"In Kenya and Bali, I have seen and documented healing rituals in which singing and dancing were used to help patients recover," Akombo told the group. "I want to see if these results can be quantified, and I hope this partnership can provide that."
University of Florida Professor Jill Sonke believes there is much anecdotal and quantifiable evidence showing the healing effects of music. As co-founder and co-director of the University's Center for the Arts in Healing Program (CAHRE) that studies the effects of the arts in healthcare, she told the conference that "we are on the verge of a renaissance of spirituality and alternatives in Western medicine."
That renaissance is underway in Kenya, where a partnership between CAHRE and Mater Hospital in Nairobi has established the first formal Arts in Medicine program in East Africa.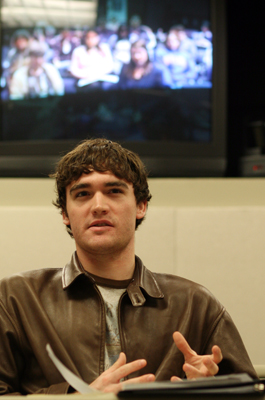 "We've just had a wonderful workshop here, and most doctors and staff are quite enthused—it's very encouraging" said CAHRE's Dr. Rusti Brandman, offering an update on the fledgling program. "We had a concert here [at the hospital] just this week, and some of our patients in the wards were dancing. It was wonderful. People went to bed feeling better, ready to comply with medical procedures."
"Music has always been used in villages in healing rituals," one of her colleagues noted, "We are now translating to the hospital what is already known in the bush."
"Music has long been a very powerful tool for healing," said Cathy DeWit, a musician in the University's Shands Arts in Medicine program in Gainesville, FL. "Sometimes I'll go into a patient's room and play just one tune and see the monitors register a change. It's not just soothing. It affects physiological changes. We can measure these empirically and anecdotally—it's often quite astounding.
Professor Akombo has seen equally dramatic results in his work as a volunteer for the Arts in Medicine program.
"Hospital patients need something to enliven them, to reconnect them to the outside world," Akombo said. "Music brings them out of patient mode and into living mode. It has the potential to change the human mind, body, and soul."
That theme was picked up by Wabash pre-med student John Wolpers '09, who noted that the examples given at the teleconference suggest just how closely the body, mind, and spirit are connected.
"I really enjoy learning this, especially hearing the latest research in this area," Wolpers said.
Wolpers was one of five Wabash students who participated in the teleconference along with Pre-Health Professions Advisor Jill Rogers in the College's Trippet Hall videoconference room.
"To have these researchers and students from different specialties and different countries all brought together in one room was a great opportunity," said psychology major Caleb Hedden '09.
"We need to get this information and research out to the medical community and general public," said Professor Nina Stoyan-Rosenzweig, Director of Medical Humanities at the University of Florida.
""There is so much that the arts can give to both patients and medical practitioners," said Akombo, who envisions music's healing power extending to doctors, as well. "I hope this is just the beginning of our collaboration to integrate the fine arts into the healing arts.
Read more about Professor Akombo.
Read more about Arts in Medicine.
In photos: Professor David Akombo (upper right); John Wolpers '09 asks a question during last week's teleconference. The teleconference was co-sponsored by the College's Music Department, Larry Bennett, chair, and Division II, Dwight Watson, chair, with technical assistant from Bill Doemel.