Family Day Draws a Crowd
by Tom Runge • October 30, 2006

Share: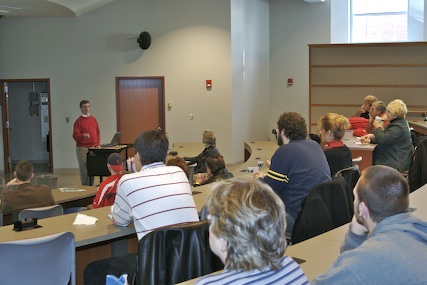 Wabash's Family Day, October 28, 2006, drew a large crowd to campus. In addition to a hot brunch on a cold morning and a campus tour, the program included two very important information sessions for families.
The first session, on Off-Campus Studies, filled the room. David Clapp, director of International Students and Off-Campus Studies, teamed with Rick Warner, professor of history, to discuss the many opportunities available to Wabash students.
The second session's subject was internships and careers. Of course the subject of life after Wabash was near and dear to many parents' hearts! The group again filled the room as they heard from the following:
Scott Crawford, director of the Schroeder Center for Career Development
Stephanie Hopkins, assistant director
Jill Rogers, pre-health professions advisor
Lu Hamilton '76, alumni career officer
The Little Giant football team delivered a great victory over visiting Wooster and our Little Giant soccer team played well but lost to visiting Oberlin.
Photo: David Clapp talks about the many off-campus opportunities.
For more photos, click here.