Wabash Defense Dominating in Win over Oberlin
by Howard Hewitt • October 21, 2006

Share:
Oberlin, Ohio – The Little Giants stifling defense and a little left over frustration from Wittenberg was too much Saturday for host Oberlin, 48-20.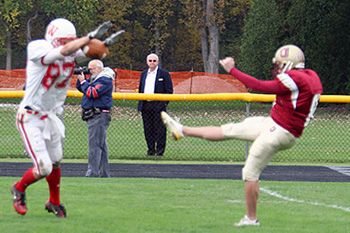 Wabash sacked the Yeoman quarterbacks 10 times in limiting Oberlin to 55 yards rushing. The sacks of Yeoman quarterback Greg Mangan accounted for 79 negative yards. (View photos from the Wabash victory.)
"I thought our defense really played well," Head Coach Chris Creighton said. "We've been young, but I really feel as we get toward the latter part of the year our defense is really coming into its own."
The only thing better than the Wabash goal-line stand as time expired was a public address announcement that Ohio Wesleyan had defeated Wittenberg to put the Little Giants back into the NCAC championship picture with a 4-1 conference mark.
Mike Russell opened the game by hauling in a 36-yard Dustin Huff pass to get Wabash on the board. But Oberlin (4-3, 3-1) responded with a Mangan 36-yard pass to Cassius Harris.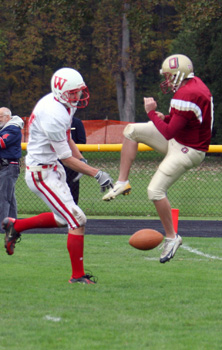 But the the Little Giant domination began aided by a spectacular Andrew Rode block of an Oberlin punt attempt. Wabash found the endzone four times in the second quarter to blow the game wide open. Billy King ran for 19 yards, 14-6. Then Don Juan Brown picked up 2- and 9-yard scores. Russell hauled in another 22-yard scoring strike, 35-6, for a big halftime edge.

The Little Giants traded scores with Oberlin in the third period, Brown scoring from 8 yards out for 42-6. The Little Giants closed out the day's scoring on a Huff to Tim Schirack 16-yard score.

Wabash rolled up 431 yards of offense to Oberlin's 287. Individually, Don Juan Brown had one of his biggest days with 16 rushes for 77 yards and the three scores. Huff was 16 of 26 with an interception, three touchdowns and 235 yards. Mike Russell had another huge day with 7 catches, 122 yards and two scores. He has 100 or more yards receiving in five of the last six games.

Another bright spot was Rode's play. Not only did he block the early punt but he caught 5 passes for 77 yards.

"Coach (Jamie) Lemmond had a good scheme set up," Rode said, referring to his blocked punt in the first half. "I just blew by my guy and got the block."

Defensively, Adi Pynenberg had 8.5 tackles and 3 quarterback sacks. Frank Knex had 5.5 stops and 2 sacks.

Wabash returns home Saturday to host Wooster.




Results: Wabash 48, Oberlin 20 Game Stats