Midwestern Abstract Artists' Work on Display
• October 18, 2006

Share:
A dramatic collection of abstract works is on view at the Eric Dean Gallery in the Fine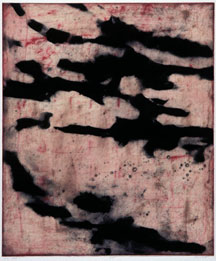 Arts Center at Wabash College beginning October 23. Fred Hagstrom, a print maker at Carleton College, and Martha Donovan Opdahl, a textile artist who splits time between Greencastle and Santa Fe, both use line and form and minimal color to create expressive and dynamic pieces. The opening reception for "Abstractions in Ink and Fiber" will be held from 8-9:30 p.m. Monday, October 23, in the gallery. Both artists will be in attendance and the public is encouraged to come to this free event and meet the artists. The show will be exhibited through December 8.
Hagstrom, who has been teaching in Minnesota for 23 years, has recently created a body of work inspired by his observations of the natural world. He sees his work as socially relevant, calling attention to the ecological crisis of our times while also expressing the beauty of nature. Of the root of his work Hagstrom said, "I was made aware of an almost daily onslaught of bad news concerning ecological issues-storms, loss of soil, fear of losing water of good quality, the loss of coral reef, global warming etc. What began as a sort of meditation on the beauty of nature became a sad reflection as my fears of possible ecological collapse began to grow. This is intended to be work that is sort of raw nerved, open to nature, and sad about the daily blows it seems to absorb."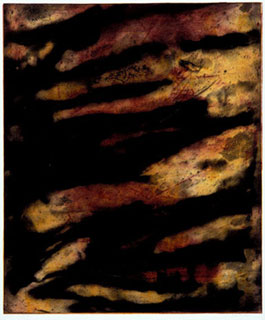 Hagstrom uses a printmaking process called intaglio, which involves waxing metal plates, etching designs into the wax, using acid to erode the exposed metal, removing the excess wax, inking the plate and, finally, running the plate through a press. American currency is made using this process. Hagstrom, however, uses an additional special process called chine colle to achieve his abstract prints. The final result for Hagstrom is a compilation of haunting and sensual pieces.
Martha Donovan Opdahl's exhibition comprises of two very different styles of work. The show includes a number of her large tufted wool wall works, which are largely monochromatic with occasional streams of red. These dyed wool pieces suggest stylized kimonos or prayer rugs, and are obviously influenced by non-Western textile traditions.
"What I'm aiming at", says Donovan Opdahl, "is an aesthetic universal, erasing cultural boundaries—not erasing the culture, just the line separating cultures from each other."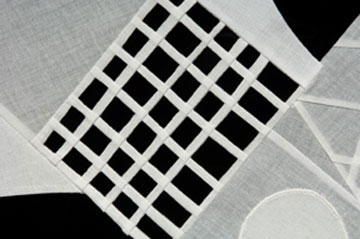 Donovan Opdahl's more recent work is smaller in scale and in multiple mediums of fiber and acrylic. The constructions have the character of drawings — linear and spare, and convey a tension between order and fragmentation. Influenced by Korean pojagi (pieced wrappings) for these pieces, again Donovan Opdahl finds inspiration from the aesthetic of other traditions. Of the various cultural influences, she pulls from "Japan, a sense of asymmetry, clarity of line and purity of form; from West Africa, a sense of off-beat rhythms;...(from the) Southwest native traditions, sharp silhouettes and contrasts between hues."
The Eric Dean Gallery is located on the south end of the Fine Arts Center. Gallery hours are Monday through Friday from 9 a.m. to 5 p.m. and on Saturday from 10 a.m. to 2 p.m. The gallery is free and open to the public
Photos:
Upper Right: Hagstrom's DarkWater #1
Middle: Hagstrom's DarkWater #7
Lower Right: Donovan Opdahl's Construction #53